Why are La Roux and Example writing for girl bands?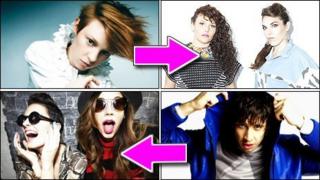 In the murky graveyard of pop, there's a special plot reserved for failed girl bands. And, this year, the undertakers have been especially busy.
Soundgirl, Parade, Belle Amie, The Ultragirls: They've all haemorrhaged hits faster than you can say "Who were they again?"
Even Louis Walsh struggled. Wonderland, his "female Westlife", split up after three underperforming singles.
"The problem is that the bar has been set at an unattainable level by Girls Aloud and the Sugababes," says pop critic Fraser McAlpine.
"Anyone trying to broach the same territory without bringing anything startlingly fresh can wind up looking anaemic by comparison.
"Even the Sugababes aren't as good as the Sugababes any more."
So who would be foolish enough to launch a new girl band in this climate?
The answer, surprisingly, is two of dance music's biggest acts - Example and La Roux.
"I'm selling my soul to the devil!" laughs La Roux's Ben Langmaid, who is working simultaneously on girl group War Of Words and his own band's second album.
"La Roux was on tour, and I don't go out on the road with the band, so I had some time on my hands," he says.
"I'd been offered quite a few things, and I'm quite picky about what I do. But when I heard the girls' voices, I was genuinely mesmerised."
Back to the 90s
The girls in question are Abi Browning and Lucy Duffield, both 23.
Crucially, they weren't forced together by a reality show or faceless pop Svengali but met through mutual friends while studying music and theatre in London.
Even so, the band had a troubled genesis.
"We started off doing a Motown project as a three-piece," says Browning. "But we could never find a third girl to fit in with me and Lucy.
"We went through about five different girls, doing the same three songs for about a year and a half. It was an absolute nightmare."
Slimmed down to a duo, they based their sound on early 90s R&B. Neneh Cherry's Buffalo Stance and En Vogue's Hold On are repeatedly mentioned as key tracks in the world of War Of Words.
This is how Langmaid, a DJ throughout the 90s, was snared into the project.
"En Vogue, for me, are the ultimate girl vocal band," he says.
"They're legends. I still listen to songs like Hold On. It's so sparse but every ingredient makes its point and fits in perfectly with everything else."
You can hear the influence of those hip-pop hits in War Of Words' debut single - an ambitious double A-side.
Battlefield is sultry and delicious, a tale of love experienced through conflict, with a burnt ochre palette borrowed from The Family Stand's Ghetto Heaven.
Panic flips the storyline, its clipped harmonies capturing the dizzying will-they, won't-they hysteria of a new relationship.
The singles sound more grown-up than the average girl band - Langmaid prefers the term "vocal harmony group" - and the singers receive co-writing credits on both.
This, they hope, will give them an advantage over 2011's less successful girl groups.
"To be honest, I don't really rate those bands," says Browning. "They all write with the same people and they all sound the same to me.
"With me and Lucy it's different. We've got distinctive voices and we wrote it ourselves. No one wrote it for us."
In a recording studio a stone's throw from War Of Words HQ, another girl band are making a similar point.
Oh My! (note the exclamation mark) are also a duo, and they also have the backing of A-list star - in their case Example.
He is the rave-rapper whose third album, Playing In The Shadows, went straight to number one last month.
Describing the band to music website Popjustice earlier this year, he said: "Two girls. Late teens. Both from up north.
"Gorgeous girl next door looks. Will be less Saturdays and more Bananarama."
Since then, he's been relatively quiet about the project - apparently in an attempt to let the band stand on their own two feet.
"He wants Oh My! to be credible," says Jade Davies, 20. "He wants us to be us, not just getting success on the back of his fame."
"At a certain point, he said he was finished writing songs for us," chips in her 19-year-old bandmate, Alex Grewcock. "He felt he'd done enough and pointed us in the right direction."
That direction is bratty but adorable teen pop. Mixing the cheerleader chants of Shampoo with Lily Allen's wistful melodies, they sing about nights out and days off with a mile-wide grin.
Enduring appeal
New single Dirty Dancer pays tribute to Patrick Swayze and features lyrics like: "I got a new pair of shoes, they'll be ruined in the morning, probably going to call in sick."
Like War Of Words, Oh My! pour their own lives into the lyrics.
"Obviously, Example's very busy so he can't be there all the time," says Grewcock. "So he'll write something and send it over.
"If we're not happy with a line or a section, we'll change it so it means something more personal to us."
Sometimes, though, the lyrics that ping onto the girls' laptops are already eerily accurate portrayals of their inner lives.
"He's a woman. Example is a woman," says Davies. "He writes how a woman thinks. We're concerned about how well he writes songs for women."
"He's probably watching Pretty Woman, crying to himself on the tour bus."
A tour with The Saturdays - the only girl band left standing - looks set to introduce Oh My! to the right fanbase. The girls, a tempest of teenage anarchy, insist they will make their mark.
"I know a lot of the other girl bands," says Grewcock. "You meet them and they're such lovely girls.
"But it's so difficult for five people to get their personalities across. There's only two of us."
Whatever their fortunes, one might ask why two major pop acts at the peak of their careers have invested their talent in writing for a girl group.
Then again, it is an age-old tradition. Prince penned hits for Vanity 6, Chic lent their trademark sound to Sister Sledge, while Phil Spector channelled his biggest hits through The Crystals, The Blossoms and The Ronettes.
"I think female vocals just sound great on radio," says Langmaid.
"Male vocals are good for bands like Kasabian, but there's something warmer about female vocals."
"For my money, the best pop groups are girl bands," adds Andy McCluskey, lead singer of OMD and chief songwriter for Atomic Kitten in the early 2000s.
"Boy bands sound absolutely horrible."