New Zealand submits Samoan film to Oscars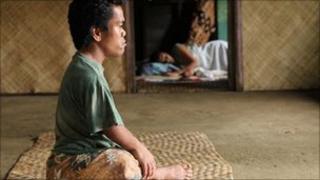 New Zealand has submitted its first ever film to be considered for a the foreign language film Oscar.
The Orator, directed by Samoan-born Tusi Tamasese - who is now based in New Zealand - was filmed in Samoa with Samoan speaking actors.
It tells the story of a farmer who is forced to protect his land and family.
Due to a rule change in 2006, films no longer have to be in an official language of the submitting country to be in contention for the award.
Oscar organisers said 63 countries had submitted entries for consideration in the category, including Albania, Brazil, Chile, Denmark, Georgia, India and Peru.
China has submitted The Flowers of War, which is set in 1937 during the Japanese invasion of Nanking and stars this year's best supporting actor, Christian Bale.
The film's director, Zhang Yimou, already has three previous nominations in the category for 1990's Ju Dou, Raise the Red Lantern in 1991 and 2002's Hero.
Germany has submitted Wim Wenders' 3D dance documentary Pina, about the late choreographer Pina Bausch - the first time a 3D film has been entered for the award.
Ireland has put forward Juanita Wilson's As If I'm Not There, which focuses on the Bosnian War.
The final five nominees in the category will be announced on 24 January.
The best foreign language Oscar is given to a feature-length motion picture produced outside the US with a predominantly non-English dialogue track.
Last year's award was won by Danish entry In A Better World, directed by Susanne Bier.