Lady Gaga bans Lady Goo Goo song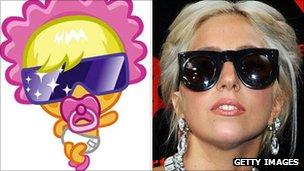 Lady Gaga has won an injunction at London's High Court to stop animated character Lady Goo Goo from releasing a single, its makers have said.
Lady Goo Goo, a baby with a long blonde fringe from the Moshi Monsters online game - owned by UK firm Mind Candy - released The Moshi Dance on YouTube.
But Lady Gaga's injunction has stopped its full release, Mind Candy said.
Law firm Mishcon de Reya confirmed it had represented Lady Gaga but said it could not comment further.
The Moshi Monsters game, aimed at six to 12-year-olds, invites players to adopt "moshling" characters including Lady Goo Goo, Dustbin Beaver and Roxy.
Its owners had planned to release The Moshi Dance - which features lyrics including "my stroller's pretty and my diapers are silk, I throw my toys out if I don't get my milk" and "my crazy outfits seem to shock" - on iTunes.
According to Mind Candy, an injunction was granted at London's High Court on Monday preventing it from "promoting, advertising, selling, distributing or otherwise making available to the public The Moshi Dance".
It also prevented Mind Candy from doing the same with "any musical work or video which purports to be performed by a character by the name of Lady Goo Goo, or which otherwise uses the name Lady Goo Goo or any variant thereon".
The Moshi Dance video has since been removed from the Moshi Monsters channel on YouTube.
Mind Candy said in a statement the ruling was "a huge disappointment" and that "it's pretty obvious that kids will be able to tell the difference between the two characters".
Michael Acton Smith, the company's chief executive, told the BBC: "It was a strange ruling - we certainly weren't expecting to lose.
"We've had a huge amount of public support. I think this could be a worrying precedent for other parody acts and tribute bands."
He said the popular character may even have to "killed off" from the Moshi Monsters story.
"It's going to be a tough one.
"As things stand now, we probably would have to kill off the character - or at least modify her and change her name.
"That's obviously not great for the kids who love her and love the music."
Related Internet Links
The BBC is not responsible for the content of external sites.