Conductor Riccardo Muti collects $1m prize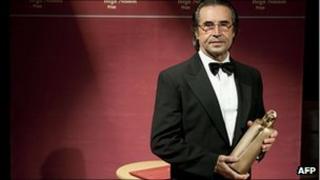 Italian conductor Riccardo Muti has collected the $1 million (£634,000) Birgit Nilsson Prize - the biggest prize in classical music.
The 70-year-old won the award "for his extraordinary contributions in opera and concert".
The conductor told reporters he was "honoured and happy" ahead of the ceremony in Sweden.
Muti is the second recipient of the prize, established after the death of Swedish opera singer Birgit Nilsson.
Muti, who is currently the conductor of the Chicago Symphony Orchestra, has also been conductor of the Maggio Musicale Fiorentino, the Philharmonia Orchestra in London, the Philadelphia Orchestra and Teatro alla Scala.
"It's important because you realize that maybe you have done something important in your life, and people around the world recognise work that you have done as a musician," the conductor said of the honour.
Nilsson, who died in 2005, became renowned for her interpretations of Wagner's leading soprano roles.
Muti revealed that, as a young conductor, he make three-hour journeys to hear her sing in Rome.
"To wake up in the morning that early to take the train was sort of a sacrifice that you do just for exceptional things. For Birgit Nilsson but not anybody else," he said.
The prize was presented to Muti by King Carl XVI Gustaf at the Swedish Royal Opera.
It was first awarded in 2009 to Spanish tenor Placido Domingo, whom Nilsson had picked herself but whose name was kept secret for nearly a decade before it was revealed.
She never picked another winner, with a jury taking over the selection task once Domingo received his prize.