Terry Gilliam defends his pasta-sponsored short film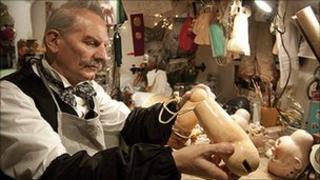 Monty Python star Terry Gilliam has defended his decision to make a short film that was wholly financed by an Italian pasta company.
The Wholly Family, which will be screened at the London Film Festival, follows another short he made in 2010, backed by a US drinks manufacturer.
"It wasn't selling out," the 70-year-old film-maker told the BBC.
"The only stipulations were the film had to be made in Naples and nobody gets killed in it."
"I did exactly what I wanted to do."
The Wholly Family is one of five shorts to receive backing from Garofalo Pasta.
The 15-minute film tells of a young boy who has nightmarish visions after he steals a doll from a market stall.
"Making a short is a lot easier than doing feature-length movies, where most of your time is spent raising the money," the director said.
"This took no time to raise the money. All the time was spent making the movie."
'Hands off'
Gilliam, whose feature films include Time Bandits and Brazil, is not the first director to have made films in association with companies and products.
In the early 2000s car giant BMW invited eight well-known directors - amongst them Guy Ritchie, Ang Lee and John Woo - to make a series of internet shorts showcasing their vehicles.
They were followed in 2008 by Somers Town, a 70-minute film from Britain's Shane Meadows that was entirely funded by train company Eurostar.
This year, meanwhile, saw satirist Morgan Spurlock release The Greatest Movie Ever Sold, a documentary about product placement funded by advertising and sponsorship.
According to Gilliam, such affiliations can be beneficial to both parties - provided the backer adopts a "hands off" approach that ensures the film-maker's creative freedom.
"I think it might be happening more," he said. "The company gets its name up there [on screen], but the audience gets to see a real film."
Yet there can be a negative side to accepting corporate patronage, as the director discovered when he submitted The Wholly Family to another film festival.
"We were rejected because they said it was a commercial and that we were promoting a product," said Gilliam, describing the decision as "crazy".
Gilliam, whose last full-length feature was The Imaginarium of Doctor Parnassus in 2009, said the week it took to make The Wholly Family had been "fast and hard and furious".
"It was like being back doing the animation on Python," he said, making reference to the surreal animated sketches he created for the Monty Python programmes and films.
Controversy
The famous British comedy troupe is currently the subject of No Naughty Bits, a play at London's Hampstead Theatre about cuts made to Monty Python's Flying Circus in the US.
The Python team will also feature later this month in Holy Flying Circus, a BBC film drama about the controversy surrounding 1979 religious satire Life of Brian.
In both pieces Gilliam is played by an actor - something the man himself admits is a curious thing to behold.
"I saw the play and it's a very odd experience to see somebody doing their version of you," he says.
"In both cases the actor wanted to meet me and in both cases I said no. That's the only way to approach it.
"You've just got to say, 'It's out of my hands.' I just want them to do their caricature of me - that's fine."
In No Naughty Bits, Gilliam is played by actor Sam Alexander. Holy Flying Circus, meanwhile, sees him portrayed by comedian Phil Nichol.
In another forthcoming BBC production, however - spoof documentary Cricklewood Greats - the resemblance will be even more uncanny.
"Strangely enough I had to play myself in a TV programme Peter Capaldi just made," reveals the film-maker, who recently made his opera directing debut with the English National Opera.
"Me playing me was a lot more complicated than letting someone else do it."
The Wholly Family will be shown on 14 and 17 October at London's BFI Southbank as part of the London Film Festival shorts programme The School of Life.