Richard Gere guitar auction fetches $936,438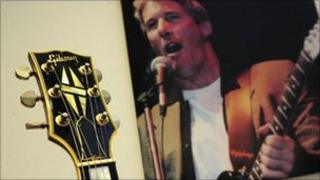 Richard Gere's collection of classic guitars and amplifiers, built up over 40 years, has fetched $936,438 (£595,000) at a New York auction.
Top lot at the Christie's charity sale was a 1960 Gibson Les Paul which was bought by a private collector for $98,500 (£63,000) including commission.
A 1931 CF Martin that went for $62,500 (£40,000), was among three lots bought by the guitar manufacturer.
The actor has said it was "painful" to let go of "my true friends".
Christie's said the Pretty Woman star - who studied trumpet and taught himself guitar and piano - "was looking for instruments that did something personally, tonally for him" .
Guitars once owned by Bob Marley and the Wailers musician Peter Tosh and a 1958 Gibson Flying V, once owned by bluesman Albert King, were among the instruments sold.
A 1960 Gibson Inc electric guitar was bought by an anonymous buyer for $47,500 (£30,000).
Gere has said he had not planned to put a collection together.
"I just bought ones that I liked, the ones that sounded good and played well. Some are very special," he said.
Only four of 106 instruments available for auction failed to sell.