Jarvis Cocker to be Faber and Faber editor-at-large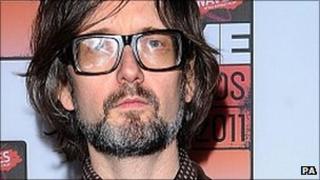 Pulp frontman Jarvis Cocker has been appointed editor-at-large with book publisher Faber and Faber.
The singer will work in a "broad commissioning role" with Faber's publishing and editorial directors.
Cocker follows in the footsteps of The Who guitarist Pete Townshend, who was appointed the role at the publisher in the 1980s.
The singer will begin his two-year role with an open brief from January.
Cocker said he was "proud, and more than a little excited" to be asked to work with the publisher.
"It is my dearest hope that we will produce some fantastic books together," he added.
Publishing director Brackstone said: "Jarvis felt like a natural fit with the Faber sensibility, both as author and editor.
"I'm sure the small list of books he will develop will represent his eccentric and yet popular touch."
Jarvis Cocker's first book of lyrics, Mother, Brother, Lover is published by Faber next week.