Library cuts: The battle of the bookshelves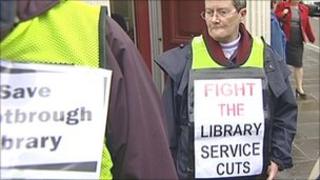 The High Court in London has ruled in favour of Brent Council's proposals to close six of its 12 libraries in a landmark case that was keenly watched by those fighting hundreds more closures up and down the UK.
Across the country, a series of small wars are quietly being waged.
The battlegrounds are public libraries, more than 400 of which are under threat - around one in 10 libraries in the UK, according to campaigners.
On one side are local councils who have earmarked closures as a way to save money after being handed a 27% cut in central government funding over four years.
On the other are librarians, library users and authors, who believe local libraries are vital centres of literature and learning.
They are passionate and, as you would expect, well organised and well informed. It is a rather civil war.
The Brent decision hinged on the 1964 Public Libraries and Museums Act, which says local authorities must provide a "comprehensive and efficient library service", and may determine how far other local authorities can go with their planned closures.
The result of another judicial review, into plans to close libraries in Somerset and Gloucestershire, is likely to be made public in several weeks.
Almost every day, there is other news of a victory or defeat somewhere else.
On Tuesday night, the cabinet of Waltham Forest Council in east London voted to close two libraries.
The Waltham Forest Guardian reported that the decision was taken despite pleas from "furious protesters", including disabled 29-year-old Hayley Bowden, from Leytonstone, who was said to be in tears at the prospect of being unable to get to other branches with her eight-year-old daughter.
"I'm really upset," she said. "My daughter will be devastated as she knows I won't be able to take her any more."
In response, cabinet member for leisure and culture Geraldine Reardon said the council still valued its libraries highly.
But she explained: "This is indeed a very serious situation and I'll start with the most serious fact of all - the council has to save more than £65m over the next four years at the same time as demand for services such as social care is on the increase."
There are also closure plans from Doncaster to Dorset, Bradford to Bolton.
Many other libraries across the country are already having their opening hours and staff numbers cut.
In Oxfordshire, the county council proposed to close almost half of the county's 43 libraries. But after a vociferous campaign, supported by authors including Philip Pullman, the council has drawn up new proposals to keep all branches open, with volunteers helping to run them.
Last week, council leader Keith Mitchell wrote an article for The Guardian criticising library campaigners, whom he labelled "well-heeled worthies", for failing to understand that reducing cuts to libraries would mean more cuts for social care and roads.
"Given the scale of the planned cuts, you might expect a caring population to express anger about cuts to care for older people, about the impact of cuts on the highway network and congestion and about the impact of cuts on recycling," he wrote.
"None of these concerns materialised to any significant extent.
"The single area of huge campaigning activity was our library service. Residents rose up in our city, towns and villages to demand that we keep all of our 43 libraries open."
Asking volunteers to replace paid staff has been one common solution offered by councils to keep libraries open while cutting costs.
It is hoped that volunteers will step in to staff scores of branches in Cambridgeshire, Camden and Cumbria. But the notion of replacing professional librarians has proved contentious.
In Doncaster, where the council agreed on Wednesday to close two libraries and hand 12 branches to volunteers, Mayor Peter Davies was asked on BBC Radio whether volunteers would need training and support.
"Ah, come on," he replied. "What's the training required to hand a book out, stamp it and take it back in the following week?"
'Profound contempt'
In response, librarian and campaigner Lauren Smith posted a list of 94 tasks that librarians may have to do, from teaching computer literacy to helping people with research, adhering to data protection guidelines, enforcing copyright rules and dealing with abusive visitors.
"Mayor Davies' profound contempt for the entire library profession is appalling," she wrote. "It takes a lot of on-the-job training, and often professional qualification, to provide a good quality library service."
The village library in Chalfont St Giles in Buckinghamshire has been held up as one possible model, having been run by 50 volunteers, mostly retired people, since 2007.
"Our library is small with light to moderate use," wrote Tony Hoare, chairman of Chalfont St Giles Community Library, in July.
"Buckinghamshire is a relatively prosperous county with a sufficient pool of people with the time and skills to operate the local library. Trying to follow the same model in a busy town library in a deprived area would I think be unlikely to succeed."
Other suggestions for cheaper libraries include outsourcing some services to private companies; handing over libraries to trusts or social enterprises; or encouraging libraries to work together to share back-room costs.
There are some success stories.
In 2007, Hillingdon Council in west London began a £4m programme to renovate all 17 libraries in the borough, and visitor numbers to the refurbished branches have since gone up by 50%.
Some now house Starbuck's coffee shops, with lattes and cappuccinos making £30,000 for one library since 2007. The council library service has saved £311,000 since 2007 by reorganising the libraries' back offices.
Council cabinet member for culture, sport and leisure Henry Higgins said last month: "Almost on a daily basis there are reports of library closures but we're showing there is another way."