Why Steve Coogan won't kill off Alan Partridge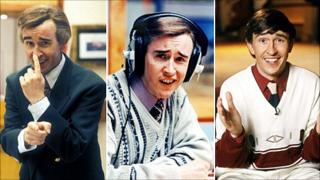 Steve Coogan has revealed he has no plans to kill off his alter ego Alan Partridge because he finds him "endlessly fascinating".
He has recently brought the radio and television presenter back for a series of online sketches and has written his "autobiography": I, Partridge: We Need To Talk About Alan.
Despite a successful film career, Coogan told Mark Lawson, on BBC Radio 4's Front Row, that he could not give him up.
"The only reason I revisited Alan was because I wanted to and he makes me laugh. I think he's funny," he explains.
"Alan is endlessly fascinating to me because he's contemptible and I care about him, simultaneously."
The character of Alan Partridge emerged as a sports presenter on Radio 4's On the Hour, before moving to TV and his spoof chat show Knowing Me, Knowing you.
Since 2003 the character has only appeared occasionally, on stage and for charity, while Coogan carved out a film career that included roles in Hollywood hits The Night in the Museum and Tropic Thunder.
But Coogan insists Patridge was constantly on his mind.
"Even when I wasn't doing him and I was in this hiatus... I'd find myself wandering down the street chuckling to myself quietly, like a madman, about something Alan Partridge might think or say," he admits.
Coogan said he found writing the book "liberating" because he could come up with "all the things that you think you ought not to do if you were writing an autobiography".
He also admitted that writing Partridge's life story was a way of getting out of writing his own.
"Publishers asked me to do one, but no-one asked me to do the Alan Partridge autobiography - I suggested it as a sort of deflecting device.
"And I think part of it was putting off any possible thing I might write, because it felt too cynical."
"To me... putting your life in a book for £10.99... somehow diminishes it in some way, that I'm not ready for."
As a campaigner against phone hacking and the intrusion of the tabloid press, Coogan said he would have to "contemplate properly" writing his own autobiography.
I, Partridge will be sold alongside actual celebrity autobiographies from James Corden, Rob Brydon and Lee Evans, among others. So is the book a satire of a publishing phenomenon?
"It's partly a satire," admits Coogan. "But we didn't really set out to be satirical in that way.
"We just wanted to do what he would do in trying to write his autobiography.
"He wants to make his life more than unremarkable, so every single event in his life he tries to spin into something it's not.
"There was an argument between his parents about tax returns that he tries to turn into some kind of nightmare childhood - as if it was torturous for him and he was scarred by it," he says, laughing.
Coogan said he wrote the book with his co-writers, in the same way as he wrote the TV show. The process included him and the other writers improvising.
"I used to feel, whoever I have been writing with over the years, that we all write this character together and he's this other, unseen person in the room. It just so happens that I'm the one who goes out and does it," he explains.
As Alan Partridge's fictional career increasingly falters, the book reveals an underlying anger that comes out more and more.
"A lot of it (the anger) comes from me, in a way," admits Coogan.
"It's a sort of a cathartic way of exorcising all your inner fears, by putting them into this character.
"It's a strange process. A lot of the stuff in it are my worst fears... the worst thing I could possibly say."
He believes Partridge's fallibility is why the character is still so popular after 18 years.
"[For] Alan to work, there has to be a degree of empathy. Sometimes the reason people ultimately don't think he's just a monster, but sort of identify with him is because he's everyone's worst fear about themselves."
You can listen to the full Radio 4 Front Row interview with Steve Coogan on BBC iPlayer.