Sir Bruce Forsyth collects knighthood from the Queen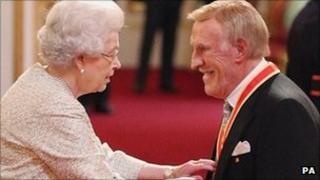 Entertainer Sir Bruce Forsyth has collected his knighthood from the Queen for services to entertainment.
The 83-year-old said he had been in showbusiness for 70 years, to which the Queen expressed surprise.
Forsyth began his career as a teenager and is now best known as the host of Strictly Come Dancing.
The star said after his investiture that it was "absolutely wonderful" to receive his knighthood, adding he had no plans to retire.
"Entertaining - it's been the only thing I've ever wanted to do and I've done it for many, many years. Who feels like quitting? I want to go on," he said.
Sir Bruce also praised the press for mounting a campaign for him to be given a knighthood.
In June when his honour was announced in the Queen's Birthday Honours List, he told the BBC receiving it meant "everything" to him, adding he was "very proud my career hasn't been in vain".
"When I got the CBE there'd been speculation every year and I think there's been too much talk about it, so I'm thrilled at last it has happened," he said.
"I just love getting out there and performing and this is a reward that I never expected and hope I'm worthy of."
The star spent years travelling the country before he got his big break in 1958 - when he was asked to host TV series Sunday Night at the London Palladium.
At that stage, he had been on the point of quitting showbusiness, but he was so popular the original two-week stint ended up lasting for five years.
He went on to present game shows The Generation Game and Play Your Cards Right and became known for his catchphrase: "Nice to see you, to see you, nice."
Meanwhile, textile and fashion designer Celia Birtwell, known as "the face that launched a thousand prints", was appointed CBE for her services to the fashion industry.
She said the honour had come as a "complete surprise" and was "the icing on top of the cake for me."
In 1965, she began designing prints for Raymond "Ossie" Clark and together they dressed some of the era's most recognisable stars, including the Beatles, the Rolling Stones, Patty Boyd and Twiggy.
Children's author and playwright Julia Donaldson - best known for The Gruffalo - received an MBE.
Speaking about her writing process, she said: "The hardest part is not getting an idea - I might have an idea today. It's developing that idea that's the hard part."
She has written more than 120 books, including The Snail And The Whale and teenage novel Running On The Cracks.