Fishing film nets documentary prize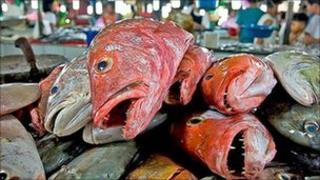 A film about the effects of overfishing has won a new award set up to honour films that have made a significant impact on society.
The End of the Line received the first Puma Creative Impact award, worth 50,000 euros (£43,737), at a London ceremony hosted by newsreader Jon Snow.
Director Rupert Murray said he hoped the prize would "inspire more people to make films that make a difference".
Another contender, Burma VJ, received a special commendation from the jury.
The Oscar-nominated film, about video journalists who go undercover to report on human rights abuses in the country, received 25,000 euros (£21,889).
US film-maker Morgan Spurlock, Christian Aid director Loretta Minghella and Queen Noor of Jordan sat on the panel that selected the winners.
Environmental documentary The Age of Stupid, starring the late Pete Postlethwaite, was among the five finalists.
Incensed
Speaking after the presentation, Snow said he was "not surprised" The End of the Line had been named the overall winner.
The documentary had "completely transformed the way a very large number of people think about fish", he added.
"You can see restaurants and supermarkets changing their ways because of what their customers now know," Snow told BBC News.
Filmed over two years and released in UK cinemas in 2009, Murray's film followed British journalist Charles Clover as he investigated the steep decline in global fish stocks.
Pret A Manger co-founder Julian Metcalfe was so incensed when he saw the film he made his High Street sandwich chain change its policy on tuna.
The Creative Impact award was set up in partnership with the Channel 4 Britdoc Foundation, which part-funded The End of the Line.