South Korean singer Rain reports for military service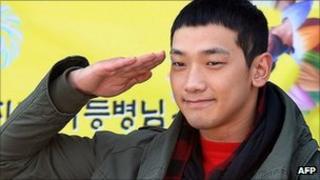 South Korean pop star Rain has bid farewell to his fans as he embarks upon nearly two years of military service.
Rain, whose real name is Jung Ji-hoon, saluted and bowed to fans who gathered outside an army base in the northern suburbs of Seoul.
"Thank you for the 10 years of love," said the 29-year-old star, who staged a farewell gig on Sunday in Seoul.
All able-bodied South Korean men are required to serve time in the military, a legacy of the 1950-53 Korean War.
But in the past artists have been known to try to avoid duty, which has proved unpopular with the public.
Korean Wave
In 2004, actor Song Seung-heon suffered a backlash when it was discovered that he had tried to abstain from service.
Other stars, including actor Zo In-sung, singer and actor So Ji-sub and model Won Bin saw out their military service and have seen their careers flourish since returning to showbusiness.
"The mood against draft dodgers is so hostile that nowadays entertainers feel it's better to simply get it over with," said Ha Jae-keun, a South Korean pop columnist.
Rain began his career in 2002 and became part of the Korean Wave of drama and popular music which has spread further afield in Asia.
His 2004 album It's Raining sold one million copies and he appeared in several movies, including Hollywood production Speed Racer in 2008.