Sixty-Six Books stars Catherine Tate as divine blogger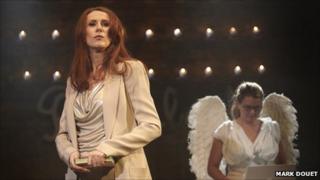 London's new Bush Theatre opens this week with a marathon theatrical event to mark the 400th anniversary of the King James Bible - with Catherine Tate in the role of God.
This is not the version of Genesis that gets taught in RE.
Catherine Tate arrives on stage in high-heels and a pale suit, accompanied by an angel with a laptop.
She declares: "In the beginning, there were no social networking sites..."
So begins Sixty-Six Books - a cycle of plays involving 130 actors and 23 directors which launches this week with a 24-hour performance at the relocated Bush Theatre.
Sixty-six writers - including Sir Andrew Motion, Carol Ann Duffy, Wole Soyinka, Billy Bragg and the Archbishop of Canterbury - have written responses to each book of the Bible.
"This has all been unbelievably seat-of the pants," admits the Bush's artistic director Josie Rourke during a hectic week of previews.
"We've just spent a month of casting 130 actors - there was a point when we felt we knew what everyone in Equity was doing. It was Downton Abbey or Game of Thrones - or this!"
Jeanette Winterson's take on Genesis - titled Godblog - casts Tate as the Almighty who communicates via Twitter.
Despite its ancient source material, Winterson's one-act play is sprinkled with topical references (there's even a name-check for ex-IMF chief Dominique Strauss-Kahn).
As Tate talks, the angel on the laptop dispatches her tweets into cyberspace.
"It's a very funny piece, it's very bold," says Rourke.
"Catherine came naturally to mind for that. She just walks out onto a stage and recruits everybody into what she's doing - and that's absolutely what it needs."
Earlier this year, Rourke directed Tate and David Tennant in Much Ado About Nothing in London's West End.
Her production transported Shakespeare's comedy to 1980s sun-drenched Gibraltar - complete with Rubik's Cubes and disco floors. It was a critical, and box office, hit.
Rourke takes over as artistic director of the Donmar Warehouse in January, having overseen the Bush theatre's move from above a pub to the old Shepherd's Bush library building around the corner.
'Little nightclub'
Having commissioned the Sixty-Six Books project, she points out it's not just for religious audiences.
"As someone who's not a person of faith, I can say you don't have to be. It's something we've not explored before through a theatrical platform.
"It's not just retellings of Bible stories. I think the thing to celebrate is the mixed bill that it offers.
"On my part it's a desire to look at this book that underpins so many of the ideas and history in our society, and so much of our language."
With two 24-hour performances of Sixty-Six Books taking place, audiences will be given plenty of breaks - plus the chance to dance.
"We are building a little nightclub in the attic of the building," explains Rourke, "and some of the actors will be doing DJ sets up there."
But she says it is the variety of the work that will be the sustaining factor.
"There's something really exciting in the way that every 20 minutes or so there will be a new piece and a new set of actors.
"I'm beginning to get the sense through the previews that something extraordinary is going to happen."
Sixty-Six Books runs at the Bush Theatre, London W12, until 29 October. There are 24-hour performances on 14 and 28 October. There will also be a 12-hour overnight performance at Westminster Abbey on 21 October.