Susan Boyle to appear in musical based on her life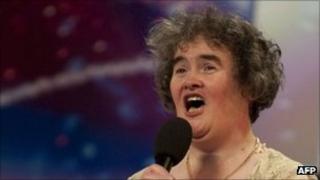 Britain's Got Talent singer Susan Boyle is to make a guest appearance in a stage musical based on her life story.
The 50-year-old, who will appear as herself during the finale of I Dreamed A Dream, said she was "thrilled" to be taking part.
Elaine C Smith, best known for starring in the BBC show Rab C Nesbitt, has been lined up to portray the singer during the rest of the show.
It will premiere at Newcastle's Theatre Royal next March before touring the UK.
"I am thrilled to be a part of the musical about my life story and very much looking forward to stepping on stage and performing with the cast," Boyle said.
"It is an honest portrayal of my life and has been a cathartic process to be involved in."
The musical will mark Boyle's first UK stage performance since the Britain's Got Talent tour in 2009.
She missed several dates of the tour, amid fears for her health. The singer had been treated for exhaustion shortly before the concert dates began.
The new musical will focus on Boyle's rise from humble beginnings in West Lothian to worldwide success, thanks to her unexpectedly moving rendition of I Dreamed A Dream, from Les Miserables, on Simon Cowell's TV talent show.
"Having Susan join the cast to perform the finale of her musical is amazing for both ourselves and audiences across the UK and Ireland," producer Michael Harrison said.
Smith, who is currently starring in the West End show Calendar Girls, said playing Boyle was an "amazing challenge".
She added: "There's a lot of pressure to get it accurate and to honour Susan's life story but to do it in a way that is funny, moving and magical and, as the writers, producers and performers, we're doing our best to achieve that."