Internet providers offer parents bar on porn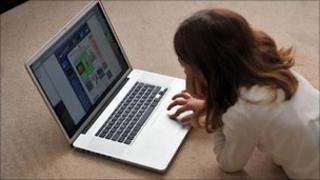 This round-up of Tuesday's main media stories reports on government moves to help parents protect their children from internet porn and inappropriate content in other media.
"A tough new crackdown to help parents protect their children from internet porn will be unveiled today by David Cameron", reports the Daily Mail on its front page. It says four of Britain's biggest internet service providers will force customers to specify if they want to view explicit sites (though other reports say this will only be an option).
The prime minister will also launch Parentport - a one-stop shop website to help parents complain about inappropriate content on the web, TV, video and film, and in games and advertising.
BBC News adds that the four internet providers to offer protection are BT, Sky, Talk Talk and Virgin. David Cameron is set to meet industry representatives today amid concern over sexualisation of children.
Gillian Reynolds says in the Daily Telegraph "a further 20% cut in radio budgets, after a full decade of previous economies, will have profound effects". She urges listeners to read the BBC's Delivery Quality First document online, and make their protests and suggestions known to the BBC Trust.
The Guardian reports that News International will donate £2.8m from the sale of the final edition of the News of the World to charity. It says Tom Mockridge, the company's new chief executive, told staff in an email that the last copy of the Sunday tabloid sold 3.8 million copies.
The money will be paid to Barnardo's, Forces Children's Trust and Queen Elizabeth Hospital in Birmingham. He also said 65 former News of the World staff had now been redeployed in jobs throughout the company.
The Archbishop of Canterbury's trip to Zimbabwe to demand an end to the persecution of Anglicans has been praised by the newspapers. And the Independent is calling for Defence Secretary Liam Fox to "resign or be sacked" over his working relationship with a friend, as reported in the BBC's newspaper review.