Actress Sharon Gless tackles sex and the older woman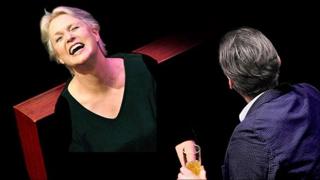 Actress Sharon Gless, who starred in 1980s cop show Cagney and Lacey, is preparing to star on the London stage as a mature woman who decides to find love after decades in the wilderness.
The star, sporting her trademark platinum blonde hair along with owl glasses, apologises for having crumbs down her front - caused by a devilled egg sandwich for lunch, she says.
But the 68-year-old quickly settles down to talking about bringing A Round-Heeled Woman to London.
Gless plays teacher Jane Juska, who at the same age, placed an advert in the New York Review of Books asking for male company.
She received 63 responses from a wide variety of men and took a year off to fully engage in a process - which had varied results.
"It's not just a sex story, even though there is sex in it. It's emotional too," says Gless, whose performance includes an orgasm scene.
"This journey of the libido forced her to look at other issues," explains Gless. "It wasn't always the time of her life - she got wounded and sometimes felt like she might die."
Gless, who spends the entire duration of the play on stage as Jane, describes real-life teacher Juska as a little grey-haired old lady with an "amazing energy".
The actress says she asked Jane why she put herself through this, and her reply was: "I had not been touched in 30 years, so I might as well have been dead anyway."
Gless adds that when the show was running in Miami, audience members told her how it had affected them.
"They would come up to me in tears, saying 'you've changed my life, I'm never going to be alone again'. Men have cried too," she says, adding that the play is not "male-bashing".
A well-known Hollywood face, Gless agrees that the role is "a gift" for an actress of her years.
"In America if you're over 25, nobody cares. But in your country there are roles for Judi Dench, Maggie Smith, Helen Mirren and Julie Walters, who are all still highly sexualised in their work.
"The British are much more accepting of older women having libidos and being sexual."
'Too old'
Gless, who currently stars in hit US television drama Burn Notice, gives a strident response when it is suggested that her work will dry up one day.
"I don't believe that! In 10 years I hope I'm in a hit TV series!" she cries.
"I try to think that way and try to make intelligent choices - I just hope they keep letting me do it."
The actress, who has owned the rights to A Round-Heeled Woman for a decade, is also determined that the lead will remain her own should the play enjoy future runs.
"Damn right! I've owned it for 10 years and I'm not going to turn it over to someone else if I get to the West End," she says.
Gless has turned in a number of notable screen performances, including in Queer As Folk USA and The State Within.
But it is her award-winning performance as tough-talking policewoman Christine Cagney which continues to resonate in the memory.
Speaking of her former co-star Tyne Daly, she says: "We're very close. She wants us to do a play together.
"Her mum had a great expression - a sweat makes a great cement. We sweated together on that series for six years, against all odds," reminisces the actress.
"It changed my life," adds Gless.
"There was an idea to have a TV movie every year until one of them didn't show up. But I think we're too old now. And maybe you shouldn't touch a classic.
"I don't know how interesting Christine Cagney would be as an old woman," adds Gless.
But as an older actress and a champion of the mature heroine of A Round-Heeled Woman, she quickly corrects herself.
"But I shouldn't say that - all older women are interesting."
A Round-Heeled Woman is on at London's Riverside Studios from 18 October to 20 November.