Noel Gallagher wants more Simon Cowells in music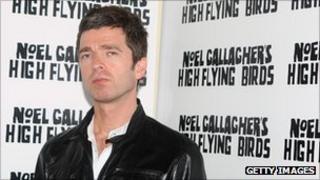 The music industry needs more people like mogul Simon Cowell, according to musician Noel Gallagher.
Speaking to BBC Radio 4's Front Row, Gallagher said he thought the "unsettled" pop world needed more people with The X Factor mogul's attitude.
"This is going to sound crazy but if the music business was inhabited by more people like him it would be in a better place because he's brutally honest.
"He's not pretending to be anything he's not. He's not claiming he's going home and listening to The White Album.
"If everyone in the music business were brutally honest about what their intentions were then you could sort things out, but it's all smoke and mirrors," he said.
The former Oasis star is about to release his debut solo album, Noel Gallagher's High Flying Birds, but admitted he was not sure what to expect.
"I can't define success any more. It used to be whoever was headlining Top of the Pops. I look at the charts now, and singles are out when they're not even out, it's crazy," he said.
"It's all changed and it will all change every three years. We still haven't got to a settled place with the music industry."
But while some feel The X Factor has become too powerful, Gallagher said he did not agree.
"It's just a TV show, people take that too seriously," he said.
"It has got nothing whatsoever to do with finding talent. You're not telling me Louis Walsh is a barometer for talent? Come on, with the best will in the world."
But he admitted he loved watching the show with his 11-year-old daughter.
"It's a shared family experience. She loves it and I love it because I get to vent my spleen. It's nothing to do with music."
But Gallagher does allow the programme to use his songs, and admitted he was happy to accept the royalties.
"I'll give you one word - or rather a noise. Kerching! I've got to keep the Mrs in shoes."
He also defended the show against people who were annoyed that the winner of The X Factor tends to take the Christmas number one spot.
"Somebody said to me, 'Oh it's spoiled the Christmas number one', and I was like 'that's such a cultural thing to look forward to wasn't it?' Little plastic furry things singing, come on, I'm not having that."
But he said he has drawn the line at being a judge and turned down Simon Cowell when he was asked.
"He called me up and he said he needed an alpha male to replace him... and he pushed and pushed for a while... but I was never going to say yes.
"All my mates were going, 'You've got to do it' and I was like it's eight months and I can't have these people round my house crying in the kitchen."
He admitted his daughter Anais has never forgiven him for turning the offer down.
"I'll never forget her face, the little veins were popping out on the side of her head and she thrust her face into me and [she shouted] 'But it's The X Factor!' It was like something out of The Exorcist."
He said she was more impressed with the thought of him appearing in The X Factor than his fame with Oasis, and it sounds like she may have taken after her outspoken father.
"We were watching X Factor the other night and I was saying 'Get off, you're rubbish' and she leant over and said, 'Well you could have told him that yourself.'"
Listen to the full interview with Noel Gallagher on BBC Radio 4s Front Row on Wednesday, 12 October, 19:15 BST.