Christ and Che among top 11 icons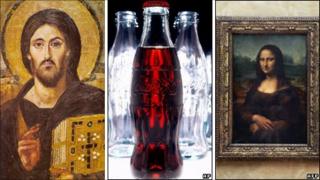 Leonardo da Vinci's Mona Lisa, the Coca-Cola bottle and Christ are history's top iconic images, according to an Oxford professor.
Martin Kemp has collated a selection of 11 images for his book Christ To Coke - How Image Becomes Icon.
A print of Che Guevara, the US flag and Nick Ut's photo of a naked girl fleeing a napalm attack in Vietnam were also included on the list.
He said he wanted to explore why iconic images have "achieved their status".
He added: "The 11 images here are as secure and universal in their iconic status as any cultural products can ever claim to be."
"An iconic image is one that has achieved wholly exceptional levels of widespread recognisability and has come to carry a rich series of varied associations for very large numbers of people across time and cultures."
Throughout the book Kemp investigates the history of the images he chose and looks at how, in his opinion, they became iconic.
The author admitted there were images, such as the Buddha, which he eventually omitted from the list: "I lost the Buddha partly because, even the very familiar seated image of the portly divine, did not seem to have achieved the same level of worldwide recognisability as Christ," he said.
He admitted that his list represented a "Western slant".
"This is in part because of my areas of cultural knowledge", but also because "Western and Western-style media have come to dominate the making and dissemination of images on a worldwide basis".