Annie Lennox to pick up lifetime award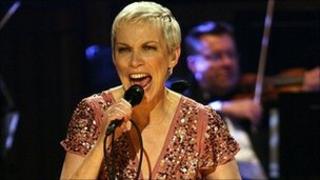 Singer Annie Lennox is set to receive a lifetime achievement prize at the Inspiration Awards for Women.
The 56-year-old will be recognised for her career with the Eurythmics and as a solo artist, and for her charity work.
In June, Lennox was appointed an OBE for her work fighting Aids and poverty in Africa.
Tracey Emin and Kate Winslet are among the nominees at the London event to honour the UK's "most inspirational, aspirational and stylish women".
Singer Adele, who has just cancelled her US tour, will be handed a next generation inspiration award.
Lady Gaga and Alicia Keys are among the celebrities nominated in the international category. The awards raises money for the Breakthrough Breast Cancer charity.
Lennox, a prominent peace activist, is a UNAids goodwill ambassador and an ambassador for Oxfam. She founded the Sing campaign in 2007 to raise awareness of Aids in Africa.
She has sold more than 80 million albums worldwide with the Eurythmics and as a solo artist. An exhibition dedicated to the Aberdeen-born singer's life is currently on show at the Victoria and Albert Museum in London.