BBC Cuts: Will audiences notice?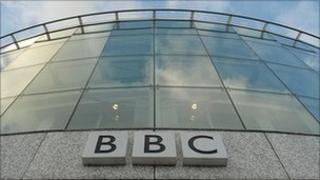 Today's proposals for implementing a 20% cut in the BBC's budget will radically change how - and where - the corporation operates.
There will be greater use of new technology, and 1,000 jobs will move from London to the north of England, including the digital TV channel BBC Three and Radio 4's consumer programme You & Yours.
The BBC will also move out of Television Centre and its cluster of other buildings in west London.
But how much will be noticed by listeners and viewers?
£200 million of the savings will come from cutting programmes. Daytime shows on BBC Two will be replaced by news and repeats of factual programmes; there'll be fewer lunchtime concerts on Radio 3; local radio stations will share programming outside peak listening times; and children's programmes will move off BBC One and Two, to the dedicated channels CBBC and CBeebies.
Critics say this amounts to salami-slicing and that the BBC should simply have sacrificed a TV channel, such as BBC3 or BBC4. But director general Mark Thompson said that would have saved less money than the decision to cut sports rights by 15 per cent.
'Watershed moment'
Some areas have been spared the worst of the cuts, because they are seen as central to the BBC's core public purposes.
Radio 4's programme budget will not be cut, though it will have less money for factual programmes and slightly more repeats. It will also benefit from reinvestment money, to fund new landmark factual series such as A History of the World In 100 Objects.
BBC One is also largely protected, and will gain reinvestment money for drama and comedy. Money is also being found for an increased investigations fund for Panorama, and for serious science, history, business, arts and natural history programmes for BBC Two and BBC Four.
But programme budgets are only half the story. Most of the savings are due to come from finding cheaper ways of working, through new technology, job cuts and new terms and conditions for BBC staff.
Two thousand jobs will go, including more than 300 senior management posts and several hundred in the BBC's news division, even though news is one of the BBC's core priorities. That's been criticised by the general secretary of the National Union of Journalists, Michele Stanistreet.
"It's obviously a really bad watershed moment for the BBC today and a really bad day for British journalism," he said.
"Our members will be reflecting on the impact of the cuts in their own areas when we meet next week, and I would imagine strike action is inevitable."
Technicians' union Bectu says strikes are likely before Christmas unless the BBC changes its stance.
Today's changes aren't set in stone. The BBC Trust has begun a three-month consultation, asking licence-fee payers for their views on the programme proposals.
But with no TV channel or radio station facing closure (like BBC 6 Music and the Asian Network, both reprieved after public protests), and local radio and BBC Four hit less hard than at one time feared, few expect licence-fee payers to be marching on Broadcasting House.