Tough guy actor Charles Napier dies aged 75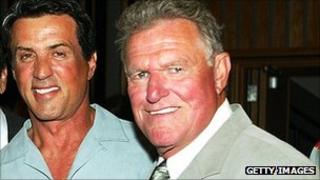 US actor Charles Napier, who portrayed a succession of movie tough guys, has died at the age of 75.
The square-jawed former paratrooper made his film debut in sexploitation director Russ Meyer's Cherry, Harry and Raquel! in 1971.
He went on to play a country singer in The Blues Brothers and acted opposite Anthony Hopkins in Silence of the Lambs.
Napier died at Bakersfield Memorial Hospital and leaves three children.
Born in Scottsville, Kentucky, in 1936, Napier served in the the US Army before becoming an actor.
His first major role came in 1980, when he played Tucker McElroy, lead singer of The Good Ol' Boys in The Blues Brothers.
In 1991, Napier's character Lt Boyle met a sticky end opposite Anthony Hopkins as Hannibal Lecter in Silence of the Lambs.
Two years later, he worked with Silence director Jonathan Demme again in the Oscar-winning Philadelphia - where he played a judge.
A friend of US journalist Hunter S Thompson, Napier named one of his sons after the late writer.
He also worked as a voice artist, providing the Hulk's roars in the 1978 TV series and between 1997 and 2000 he played General Hardcastle on Superman: The Animated Series.
His last film role was in the 2009 comedy The Goods: Live Hard, Sell Hard opposite Entourage star Jeremy Piven and James Brolin.
Napier was married twice and is survived by two sons and a daughter