Adele: A singing star's vocal worries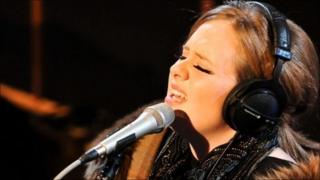 Singer Adele has once again been forced to pull out of a tour because of throat problems.
The 23-year-old star, who boasts the two best-selling albums of the year so far with 19 and 21, has been ordered by doctors to take an extended period of rest after the discovery of a haemorrhage on her vocal cord.
Jonathan Hern, a surgeon who runs the voice clinic at Frimley Park Hospital in Surrey, says Adele will probably be out of action for at least two weeks.
"I would imagine she will be under the care of a ear, nose and throat doctor and essentially we would monitor the larynx and advise accordingly," he explains.
It is the third time the Rolling In The Deep singer has postponed a tour.
'Serious problem'
In July she told BBC Radio 1's breakfast presenter Chris Moyles that she had suffered a vocal cord haemorrhage just before a performance.
"But I sang through it, so that's why it popped. Then I got better and I got a bit of laryngitis, which is more normal," she said.
Consultant voice specialist Dr Gerald Brookes says singing when suffering from vocal haemorrhaging is dangerous.
"If someone continues to sing with a haemorrhage and there's more bleeding or trauma it can lead to permanent scarring and voice problems," he explains.
"Although haemorrhaging is not as serious as, say, a brain haemorrhage, for a singer whose voice is their life it is a very serious problem."
Adele says she now plans to undergo voice rehab, so she can start building up stamina.
It is not uncommon for singers who perform on a daily basis to suffer from vocal problems, says vocal coach Sean Jeffery.
"When you're building up your career, you maybe only play two or three gigs a week, but when you get a record deal the pressure is on," he says.
"I would consider opera singers are the Olympian weight lifting champions of the vocal world, but not even they can perform 280 gigs a year like pop stars are sometimes required to do."
'Delicate muscles'
Adele is not the only singer to suffer from throat problems.
Recently, John Mayer, R Kelly, Duran Duran's Simon Le Bon and stage star Connie Fisher have all been forced to cancel performances due to vocal issues.
Dr Brookes explains it is because professional singers are "voice athletes" who put everything into their performances.
"They're putting strain on their larynx and vocal cords, but they need to be at their peak, because that is their livelihood."
In an interview earlier this year Adele told Glamour magazine she first started experiencing problems just before her first album, 19, was released in 2008.
"I stopped smoking, drinking, eating or drinking citrus, spicy foods or caffeine. It was so boring," she said.
"When my album went to number one here and in America, I just sat in my room and watched TV because I couldn't go out and talk to anyone."
Although she admitted her voice sounds noticeably better when not smoking, it is thought she has failed to kick the habit.
But Mr Jeffrey, who has trained with singers at the National Theatre and trains up-and-coming pop stars, does not think smoking is necessarily an issue.
"Some of my friends are the best singers in the world and they smoke and drink," he says.
"It certainly doesn't help, but I've also known people who don't drink and don't smoke and still have voice problems."
He says when Adele returns to work, she might have to undergo the equivalent of physio for the voice.
"It's devastating. I've lost my voice a few times and it's like having your right arm cut off. Your vocal chords are one of the most delicate muscles in your body."
Mr Hern says although vocal cord haemorrhages are fairly common, it is vital that the voice is rested.
"If you don't, then more problems can occur with the singing voice, but it can also affect the speaking voice - and communication is everything."