Queen win icon gong at BMI awards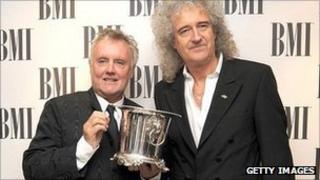 Rock band Queen have been honoured with a prestigious icon prize by the US music industry at a ceremony in London.
Speaking to BBC 6 Music, Queen guitarist Brian May said: "It means a lot, especially because it's an American award."
There were also prizes for Spandau Ballet, Van Morrison and Eric Clapton.
The event, hosted by Broadcast Music Inc (BMI), recognises pop acts who have gained airplay success in the US.
'Anchored to reality'
Morrison's song Brown Eyed Girl was honoured after it achieved 10 million plays on US radio.
The only other UK act with a track that has passed the 10 million play mark in the US is Sting's with Every Breath You Take.
There was also recognition for Eric Clapton's Layla - recorded under the name Derek And The Dominoes - which has amassed eight million US plays.
His song Tears In Heaven also picked up a prize, along with Beatles tracks Michelle, Let It Be and Hey Jude which have reached new benchmarks.
Gary Kemp from Spandau Ballet collected an award at event for their hit True, which has passed the four million mark.
Irish band The Script took the honour for the most played song in the US by a European act in the past year with their hit Breakeven.
Queen's Roger Taylor also attended the event, along with May.
"Though we were kind of married to America for a long time we never really were very much in terms of awards. We're not bursting with Grammys, so it's nice to have that tribute from our peers," he said.
When asked why he thought Queen's music is still popular, he added: "I have no idea, except that we came up with good material.
"The songs were very competitive and very much anchored to reality. We didn't write songs about pop stars. We wrote songs about real people and their dreams and their ambitions, I think that maybe had something to do with it."