Margaret Thatcher as portrayed in the movies and on TV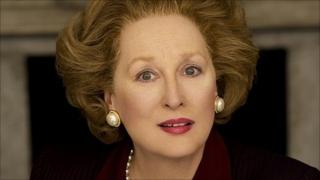 In the new film The Iron Lady, US actress Meryl Streep joins a long list of actresses who have played former British Prime Minister Margaret Thatcher.
The bouffant hair, pearls and twin-sets may have remained relatively constant but the performances through the years have ranged from the comedic to the dramatic.
Here are a pick of some of them.
2008, Andrea Riseborough The Long Walk to Finchley
One of the most recent portrayals of Margaret Thatcher came in the form of 30-year-old actress Andrea Riseborough, Bafta-nominated for her performance in The Long Walk to Finchley.
The BBC Four drama focused on Thatcher's early political career - from her attempts to gain a seat in Dartford in 1949 to her successful campaign to win a parliamentary seat in Finchley, in 1959.
Though Riseborough's casting as the young Margaret Roberts was considered "ludicrously flattering", her performance was largely praised by critics.
Speaking on the BBC's Daily Politics show, Thatcher's biographer Charles Moore suggested that Riseborough's flirtatious and coquettish portrayal of the young politician was accurate.
2009, Lindsay Duncan in Margaret
Scottish actress Lindsay Duncan starred in a fictionalised account of her final days in Downing Street in 2009's Margaret on BBC Two.
It was produced by Great Meadow, the same company behind The Long Walk to Finchley.
The Telegraph said Duncan's physical presence was "almost a glamour puss. She had a wave of glossy blonde Hollywood hair and the immaculate bone-white pallor of Elizabeth I."
The film was discussed on Newsnight Review. Conservative Education Secretary Michael Gove said although Duncan's performance occasionally showed Thatcher as a "she-wolf", it was a "sympathetic portrayal" of both the former prime minister and husband Denis Thatcher - played by Ian McDiarmid.
However, the Guardian again picked up on Duncan's physical attributes as Nancy Banks-Smith noted: "Physically, Lindsay Duncan struck me as too brightly blonde, too enviably willowy."
Speaking to BBC Breakfast, Duncan said she worked on capturing Thatcher's voice for around 10 weeks prior to shooting, but added: "We thought it would be better to stay away from caricature."
2002, Greta Scacchi in Jeffrey Archer: The Truth
In 2002, Greta Scacchi portrayed Margaret Thatcher in a fictionalised biography of Tory peer Jeffrey Archer.
It was written by Drop the Dead Donkey's Guy Jenkin - who has since gone on to work on the hit BBC comedy Outnumbered.
The BBC One drama contains one scene with Thatcher doing a striptease and also shows the former Prime Minister and Archer, played by Damian Lewis, in a steamy sex scene.
Scacchi's Thatcher even has a heart tattoo with the letters JA etched on her hip.
It received mixed reviews after its screening.
2002, Patricia Hodge in The Falklands Play
Ian Curteis's controversial Falklands Play is an account of how Margaret Thatcher's government handled the biggest crisis in British foreign affairs since Suez.
It was originally commissioned by the BBC in 1983 for broadcast in the 1986 but it was shelved by the then controller of BBC One Michael Grade, amid concerns of pro-Thatcher bias ahead of a forthcoming general election.
It was eventually broadcast in 2002, on the 20th anniversary of the war.
Hodge was praised for her performance, with the Guardian saying she "conveyed emotion and contempt with the slightest flicker of her eyes and doled out death stares, the likes of which could freeze fire at 500 yards".
Steve Nallon, 1984-1996, Spitting Image
Arguably one of the most famous impersonations of Margaret Thatcher was performed by a man.
Comedian Steve Nallon voiced the shark-snouted puppet Thatcher in ITV's satirical TV show Spitting Image for 12 years.
Portrayed as a bullying tyrant who wore suits and chewed cigars, the Thatcher puppet also had a fierce dislike of anything French.
When an all-female theatre company put on a production of Margaret Thatcher: the musical, Nallon was the man who gave them vocal coaching lessons.
In an interview with Time Out in 2008, Nallon said "There are certain characters that you spend so much time being that you start thinking you know what they would say in any given circumstance. You get totally inside them. Thatcher was one of those.
However, he told the BBC that younger audiences don't tend to recognise her: "They are aware of her but they are only aware of her in the same way that you might be aware of someone like Harold Wilson or Jim Callaghan.
"It's the same for young people today, if I spot some grey hairs in the audience then, yes, I'll do Thatcher."
One of the Thatcher puppets was bought in 2007 for more than £5000 by the Imperial War Museum. Another (there were several) is housed at the Grantham Museum in Lincolnshire.