Taylor Lautner thriller beaten by Tinker Tailor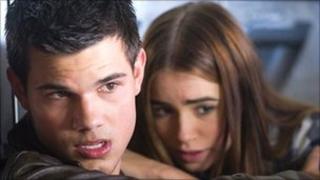 Twilight star Taylor Lautner's new movie Abduction has failed to dislodge spy thriller Tinker Tailor Soldier Spy from the top of the UK box office.
The teen star's action flick landed in second spot with £900,782, while the British movie broke the £1m barrier to claim a third week at number one.
Stage musical The Phantom of the Opera, shown in cinemas to mark its 25th anniversary, was a new entry at three.
The Debt, starring Dame Helen Mirren, made its debut at number five.
The espionage thriller was followed by Shark Night 3D at six, while romantic comedy What's Your Number entered the box office top 10 in ninth place, taking £320,331.
Lautner plays the lead role in Abduction, which is about a young man who makes a startling discovery about the identity of his parents.
The 19-year-old has attracted crowds of fans to premieres for the film around the world.
But the movie and Lautner's performance have collected some stinging critiques from film reviewers.
Tinker Tailor Soldier Spy, based on John Le Carre's novel and starring Colin Firth, Gary Oldman and Benedict Cumberbatch, has now taken a total of £9m in its three weeks of release.
The story was originally adapted for television in 1979 and starred Alec Guinness in the main role of George Smiley.