Writers vie for Bruntwood Prize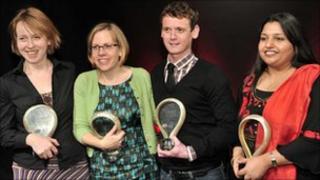 Plays about British gang culture and the war in Afghanistan are among 10 works on the shortlist for the 2011 Bruntwood Prize for Playwriting.
Described as the UK's biggest playwriting competition, a record 2,188 scripts were entered this year.
At the shortlist stage, only the names of the plays are revealed. The writers remain anonymous until the winners are announced on 15 November.
It is the third time the competition has run since it began in 2005.
"This is a shortlist of plays that feel urgent and young," said Sarah Frankcom, judge and joint artistic director of the Royal Exchange, Manchester.
"They are pieces of writing that say something about the world we live in now, across class and generations.
"From an 11-year-old girl from [Manchester suburb] Harpurhey to an Estonian family in the twilight of the USSR, these plays reflect experiences and voices that are being heard for the first time."
The competition is open to all playwrights - from first-timers to established writers - who submit their works anonymously. More than half of this year's entrants had never written a play before.
It is run by the Royal Exchange Theatre in partnership with property company Bruntwood.
The winning playwright receives £16,000, and there are three judges' awards of £8,000 each. All four award winners will have the chance to develop their play with the Royal Exchange.
In 2008, the winners were Naylah Ahmed for Butcher Boys; Vivienne Franzmann for Mogadishu; Fiona Peek for SALT and Andrew Sheridan for Winterlong.
This year's shortlist of play titles is:
•A Map of the Region
•Brilliant Adventures
•Britannia Waves the Rules
•Climbing Snakes
•I And The Village
•I Started A Fire
•One Look
•Shadow Play
•Three Birds
•White
This year's judges also include writers Simon Stephens (chair) and Jackie Kay; actors Sue Johnston and Maxine Peake; and Bruntwood chairman Michael Oglesby.