Premier League games can be shown on foreign decoders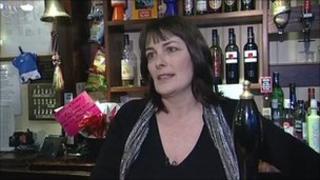 This round-up of Tuesday's main media stories reports on a crucial court case for football and television.
A pub landlady has won the latest stage of her fight to air Premier League games using a foreign TV decoder, reports BBC News.
The European Court of Justice ruling could deal a major blow to the Premier League and its lucrative TV rights model. The BBC sports editor David Bond explains: "Unlikely though it might seem, the case all centres on a Portsmouth pub, the Red, White and Blue, and its landlady, Karen Murphy. She was fined back in 2006 for showing her customers live Premier League matches accessed via a Greek service and an illegal decoder."
Ofcom will take no action against BBC2's Newsnight following an item on the summer riots in which the historian David Starkey claimed "the problem is that the whites have become black", reports the Guardian. The media regulator received more than 100 complaints from members of the public but Ofcom has ruled that the presenter, Emily Maitlis, had sufficiently challenged Starkey's claims.
The Independent says the possibility of Rupert Murdoch launching a Sunday newspaper to replace the News of the World increased yesterday as News International created a series of new senior jobs. It says "the posts are for senior roles on The Sun, which is widely expected to launch a Sunday edition early next year.... The most likely editor would be Victoria Newton, the former deputy editor of the NOTW."
A series of dramatic headlines accompanies the same weeping image of Amanda Knox after she was cleared of murdering Meredith Kercher in Italy. "Cry freedom", writes the Sun, while the Guardian says: "The nightmare is over", as reported in the BBC's newspaper review.