Jean Marsh to miss start of Upstairs Downstairs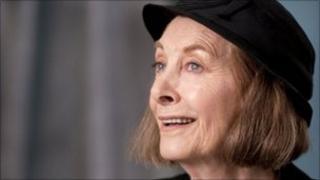 Actress Jean Marsh will miss the start of the next series of the BBC's update of period piece Upstairs Downstairs as she recovers from a minor stroke.
Scripts are being rewritten for the new six-part series, due to air in the spring, which begins filming next week.
Co-creator Marsh, 77, appeared as maid Rose Buck in the 1970s ITV original as well as in the BBC's 2010 version.
The BBC wished her a speedy recovery and said it had "something extra special planned for her new storyline".
"Unfortunately I won't be returning to Eaton Place quite as quickly as I had hoped," Marsh said in a statement.
"I am looking forward to spending time with Rose again when I'm match-fit and I miss the cast and crew tremendously."
Marsh recently earned an Emmy nod for her performance as Rose Buck which followed previous nominations for the same role in 1974, 1975 and 1976.
BBC Wales head of drama and Upstairs Downstairs executive producer Faith Penhale said the cast and crew were looking forward to Marsh's return.
"Rose is a much loved, cherished member of the household who was instrumental in bringing everyone together in last year's successful revival," she added.
Last week it was announced that former ER star Alex Kingston would be joining the Upstairs Downstairs cast to play Blanche Mottershead, the younger sister of Dame Eileen Atkins' character Lady Holland.
Dame Eileen created the programme - which follows the fortunes of a well-to-do family and their servants - with Marsh but only joined the cast for last year's BBC take.
She has since announced she will not be appearing in the new series.
Marsh, who was joined in last year's series by Keeley Hawes, Ed Stoppard and Claire Foy, is the only actor to have appeared in both the original and the revived versions.
The new series will begin in 1938 and span the months leading up to the outbreak of World War II.