Exports of British TV programmes rise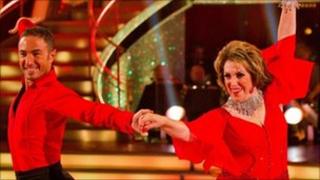 This round-up of Monday's main media stories reports on a rise in exports of British TV programmes.
The world's appetite for British television is booming according to new export figures, reports the Guardian. It says: "The success of formats such as Strictly Come Dancing, and The X Factor as well as dramas like Downton Abbey and Sherlock have led to a 13% rise in export revenues to more than £1.4bn in the last year." ITV1's Downton Abbey has been sold to more than 100 countries and Russia is remaking Life on Mars under licence from BBC Worldwide.
"The BBC is to protect high-quality output such as news, drama and Radio 4 from its forthcoming cuts programme by seeking heavy savings from mass-market services such as BBC Two and Radio 1", reports Patrick Foster in the Daily Telegraph. He says that on Thursday the BBC will announce cuts of around £700 million to the £3.5 billion it currently spends each year. Around 2,500 jobs will be cut from the 17,000 employees, with back-office areas such as human resources, marketing and legal departments hardest hit. The BBC refused to comment to the Telegraph.
The Sunday Telegraph says it can disclose that Radio 4 will be protected from deep financial cuts being made across the BBC. "Executives have decided the station, home to the Today programme and The Archers, should be one of the few areas left largely untouched by measures to reduce the corporation's budget by 20%," it says.
Pinewood Studio is celebrating its 75th birthday by starting to invest in small-scale British films, says The Observer. It says it's hoped the move will "answer criticism that Pinewood and its sister in Shepperton are both now so successful it is hard for smaller-scale British films to get a look in". Snow White and The Huntsman is "one of a succession of big budget films that have queued up to get inside a production centre that is unrivalled, not just in Britain, but across the world".
The Financial Times says David Cameron will use this week's Tory party conference to position himself as a "modern compassionate Conservative". A poll of party members for the Independent suggests that more than 60% believe the Lib Dems have too much influence over the coalition, as reported in the BBC's newspaper review.