Decline in High Street bookshops continues in 2011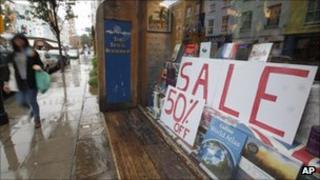 The number of bookshops on UK High Streets is in steady decline, according to The Booksellers Association.
Membership of the body, which represents 95% of booksellers in the UK and Ireland, has continued to fall over the last six years.
Since 2006, the total number of members, not including supermarket outlets, has fallen by 20%.
Independent bookshop membership has fallen by over a quarter during the same period.
Chief executive officer Tim Godfray has called for the government and publishers to step in to stop the decline.
"At a time when literacy is an issue and libraries are under threat from government cuts, we need to build a coalition of publishers, government and consumers to provide opportunities for the passionate and creative entrepreneurs who run bookshops on our High Streets to thrive," he said.
In 2006, there were 4495 outlets who held memberships with the Booksellers Association, including 1483 independents.
By June this year, the total number had fallen to 3683, while independents dropped to 1099.
Last year, 50 new independent bookshops opened across the UK but 72 closed, confirming an overall decline for the third year running.
One of the most high profile shops to close this year was The Harbour Bookshop in Dartmouth, founded by the son of Winnie the Pooh author AA Milne in 1951.
In a recent Booksellers Association survey, the top three issues concerning shop owners that the government could address were the cost of rates, parking and planning.
"This is not just an issue for our members; it's also about preserving the retail diversity of our town centres," said Mr Godfray.
The rise of the e-book has also been blamed, an issue which the government can do little about.
Sales of e-books increased by 318% in 2010 and many predict that at least 50% of all books sold within 10 years will be digital downloads.
Book retailers have also faced increasing competition from online retailers.
Spending on printed books fell by 4% in August this year, with sales dropping to a seven-year low for the month, according to sales analysts Neilsen BookScan.
Yet physical non-fiction book sales were up 3% on this time last year, with significant gains for some genres such as cookery and fitness.