Pete Townshend to launch John Peel Lecture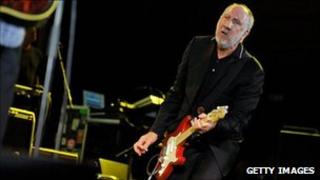 The Who star Pete Townshend is to deliver the inaugural John Peel Lecture, in which he will assess the state of music in the internet age.
The talk, to be hosted by BBC 6 Music, will become an annual event given by a different music figure every year.
Townshend will ask how musicians can survive in the age of free downloads.
The lecture, named in honour of legendary DJ Peel, who died in 2004, will be part of the Radio Festival in Salford at the end of this month.
It will be introduced by Peel's son and broadcaster Tom Ravenscroft, along with fellow 6 Music presenters Stuart Maconie and Mark Radcliffe, and broadcast live on the digital radio station.
Townshend said he was "honoured" to be asked to deliver the address, adding that the former BBC Radio 1 DJ had introduced him to bands like The Jesus and Mary Chain and The Undertones before they had signed record deals.
"John didn't just listen to music, he played it on air and let his audience decide," the 66-year-old guitarist said.
"He was a listener first, and an activist second, and I am happy to have a chance to honour him and examine how his legacy might extend into the future."
In his lecture, Townshend will pose the question: "Can John Peelism survive the internet?"
A BBC statement said his lecture would ask: "In an age of free downloads and a disposable attitude to music, can creative people earn a living, and without radio, how can the 'unpolished' music that John Peel championed find an audience?"
The event, to be held at The Lowry theatre in Salford on 31 October, is designed as the music industry's equivalent of the annual MacTaggart Lecture, given by a leading media executive at the Edinburgh International Television Festival every August.