Courtney Love to pen 'no holds barred' memoirs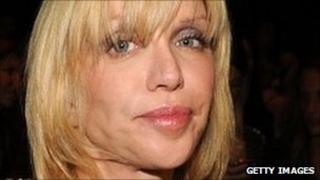 Singer and actress Courtney Love is to write a "no holds barred" memoir, "setting the record straight" about her marriage to Nirvana's Kurt Cobain.
Described by publishers Harper Collins as the "definitive memoir", the book will cover her history of drug abuse and relationship with her daughter.
"It's time for the public to hear her tell her story, as she lived it," said publisher Lynn Grady.
The memoirs will be co-authored by rock biographer Anthony Bozza.
Bozza's previous collaborations include biographies by Motley Crue's Tommy Lee and Guns 'n' Roses guitarist Slash. He is currently working on an autobiography with Wyclef Jean.
Arguably, Love remains best known for her marriage to late Nirvana frontman Cobain.
The pair married in 1992, and their daughter Frances Bean was born the same year. Cobain committed suicide in 1994.
Career arc
Aside from her relationship with Cobain, the book will tackle Love's wayward childhood, her romances with stars including Edward Norton and Billy Corgan, and her career as a singer and actress.
"Courtney is one of the most fascinating and provocative artists of our time," said Ms Grady.
"She is one of those rare performers who continues to reinvent herself time and again throughout the arc of her career," she added.
The 47-year-old formed the band Hole in 1989 and went on to achieve critical and commercial success with albums such as Live Through This and Celebrity Skin.
In 1996, she won a Golden Globe nomination for her performance in The People vs Larry Flynt.
Since 2003, her well-documented history of drug abuse and erratic behaviour has seen her in and out of court.