Ofcom issues TV watershed warning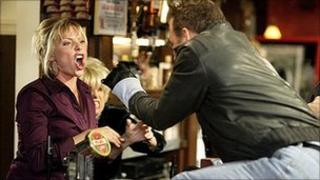 Ofcom has reminded broadcasters of their duty not to broadcast material unsuitable for children before the 21:00 watershed.
The media watchdog's warning follows several breaches of its code, many of which included explicit music videos.
It has issued a 12-page document to illustrate the problems and help broadcasters police adult content.
However, Ofcom noted that parents had fewer concerns about the programmes their children watch than in the past.
It said that 36% of parents had expressed concerns about their children's viewing habits in 2009, but that figure had now dropped to 31%.
In addition, 77% of parents thought the watershed fell at the right time, and 73% believed the amount of regulation of television was "about right".
According to Ofcom's research, the types of pre-watershed programmes that caused most concern to the parents surveyed were soaps (14%) and film (14%), followed by reality programmes (12%) and music videos (11%).
Caution advised
Ofcom's guidance reminded soap opera producers to be mindful of their pre-watershed audience, particularly with regard to violence.
This followed several complaints investigated by the watchdog - including a graphic fight between the King Brothers on Emmerdale and a gang attack on EastEnders, which resulted in Honey Mitchell going into premature labour.
"While soaps are not aimed at young people, they are scheduled pre-watershed and often attract a significant child audience," Ofcom noted.
"Broadcasters should therefore ensure that material that may be unsuitable for children is appropriately scheduled."
It also warned TV stations to be wary of repeating soaps and other shows in the daytime without considering edits to remove offensive material.
The advice on music videos followed a number of recent cases where pop promos contained unsuitable material.
Greatest Hits TV was put on notice by Ofcom earlier this week after broadcasting a compilation of sexually explicit videos by rap star 50 Cent at 09:00.
The video for S&M by Rihanna, which contains scenes of bondage,, was also ruled unacceptable after it was screened on WTF TV during the day.
"Ofcom understands that music videos will rarely contain sexually explicit images," the watchdog noted in its guidance.
"However, the cumulative effect of certain images... can result in material of a sexualised nature in music videos which is unsuitable for child viewers and could case offence."
Broadcasters were also reminded that trailers for late night programmes should avoid potentially offensive images or wording if they were to be shown before the watershed.
The new guidance was issued as a supplement to Ofcom's pre-existing rules on protecting the under-18s.