Russell Brand to be first guest on Rosie O'Donnell show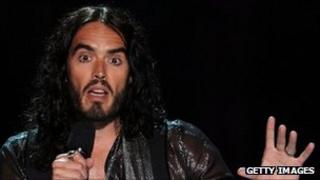 Russell Brand will be the first guest on Rosie O'Donnell's new chat show, to be aired on Oprah Winfrey's TV channel.
The Oprah Winfrey Network said he would be "one of many notable celebrities" to appear in the show's first fortnight.
The new show, which will be broadcast from 10 October, will be filmed at Chicago's Harpo Studios, which was home to The Oprah Winfrey Show for 25 years.
O'Donnell's previous daytime chat show, which ran from 1996 to 2002, won a series of Emmy Awards.
Earlier this week, in an interview for entertainment news programme Access Hollywood, O'Donnell said Brand was "100% my celebrity crush".
"I became fascinated with him and I Googled everything he ever did and I fell madly in love - I became obsessed," she added.
She said she had since seen him at Los Angeles airport and told him: "I have been marinating in you, I knew this would happen, you are genius."
Winfrey unveiled a plaque at Harpo Studios earlier this month to welcome The Rosie Show to the building.
Brand, who has set up his own production company, Branded Films, will star in a movie version of West End and Broadway musical Rock of Ages, due for release next year.