Johannes Vermeer work to be shown in UK for first time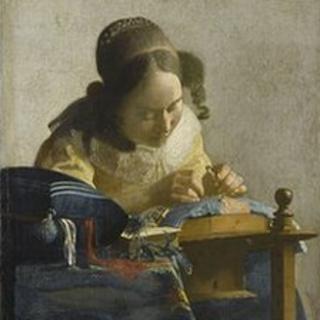 A treasured work by the 17th-century Dutch master Johannes Vermeer is to be exhibited in the UK for the first time.
The Lacemaker (1669-70) is normally displayed at the Louvre Museum in Paris, but will be loaned to Cambridge's Fitzwilliam Museum.
Betsy Wieseman, curator of forthcoming exhibition Vermeer's Women, said the Louvre "rarely" lends the painting.
She believes the work is "almost as important in their collection as the Mona Lisa".
The Lacemaker is thought to be Vermeer's smallest artwork.
"It's a very intimate experience when you see it because it's so small, you want to hold it in your hand," Ms Wieseman said.
"It is such an exquisite painting, that I think you can only really appreciate it when you actually see it in person."
Ms Wieseman said it was vital that British art lovers see the portrait first-hand, because it's "beautifully painted" and highlights "all the subtleties of Vermeer's techniques".
She added: "The Louvre very rarely lend this painting because it's almost as important in their collection as the Mona Lisa. It is a painting that people make a trip especially to the Louvre to see."
Three more Vermeers will also be on display, including A Lady At The Virginals With A Gentleman (The Music Lesson), which has been loaned by the Royal Collection.
The National Gallery has donated A Young Woman Seated At A Virginal, and the similarly titled Young Woman Seated at a Virginal has been lent by a private collection from New York.
The Cambridge exhibition will also feature other contemporaries of the Dutch Golden Age, including Gerrit Dou, Pieter de Hooch and Eglon Hendrik van der Neer.
Vermeer's Women: Secrets and Silence will run from 5 October until 15 January.