Scarlett Johansson speaks out over nude photos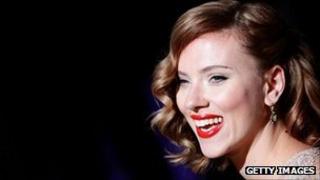 Scarlett Johansson has spoken out for the first time over the nude photos that were leaked online, calling the invasion of her privacy "unjust".
The FBI are currently investigating claims of computer hacking, following the leaking of naked photos of stars.
In an interview with CNN, Johansson said celebrities were no different to anyone else when it came to privacy.
"Just because you're an actor... doesn't mean you're not entitled to your own personal privacy," she said.
"If that [privacy] is sieged in some way, it feels unjust. It feels wrong," Johansson told the US broadcaster.
Referring to her life in the spotlight, the Bafta-winning star said: "I think there are certain instances where you give a lot of yourself and finally you have to kind of put your foot down."
Public appearance
The actress, last seen on the big screen in Iron Man 2, made her first public appearance since the pictures were leaked, at Milan Fashion Week last weekend.
One leaked photo appeared to show Johansson, 26, topless on a bed, while another apparently shows her wearing a towel while revealing her bottom.
The images, apparently taken by the actress, follow the leaking of naked photos of other celebrities including Jessica Alba.
Hacked photos of Justin Timberlake and his Friends With Benefits co-star Mila Kunis have also appeared online, according to reports.
Earlier this month, Johansson's lawyer sent letters out to all the websites that had published the photos within hours of them appearing, threatening legal action.
The photos have since been taken down by most outlets.
The FBI said it was investigating "the person or groups responsible for a series of computer intrusions involving high-profile figures".