Glee star Menzel urges caution over TV talent shows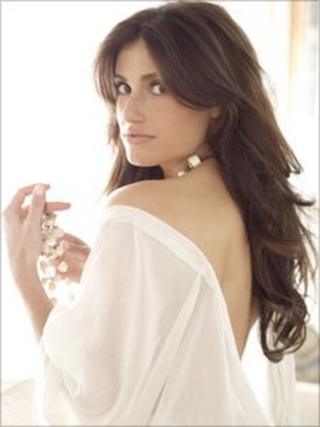 Glee and Wicked star Idina Menzel has urged caution over the recent practice of using TV talent shows to find West End leads.
"If they just pick someone out of nowhere, they might sound great but they don't know how to do it every day," she says ahead of a solo concert at London's Royal Albert Hall.
Menzel created the role of green-skinned witch Elphaba in Broadway hit Wicked and went on to launch the West End production.
She also worked with one of the hopefuls on BBC One show I'd Do Anything in 2008, in which the prize was the female lead in a production of musical Oliver!
Yet the 40-year-old Tony winner believes training and discipline are vital for a lasting career in musical theatre.
Recent West End revivals of The Sound of Music, Grease and The Wizard of Oz also used a TV talent show to find their stars.
Connie Fisher, winner of How Do You Solve a Problem Like Maria? in 2006, was forced to give up her Sound of Music role because of problems with her voice.
"If someone wins a talent show and they're incredibly talented, they deserve to be up there - provided they can see it through," Menzel says.
"Doing eight shows a week takes a lot of technique and experience on how to pace yourself. That's where the discipline comes in."
Earlier this year Menzel was seen on TV's The Glee Project, mentoring contestants competing for roles in the third series of Glee.
Phenomenon
The actress is also reprising her role as Shelby Corcoran on the show.
Glee, about high school students involved in a performing arts group, has been an international phenomenon, spawning chart success and tours.
According to Menzel, it has also fostered a new respect for theatre performers, actors previously marginalised on US TV.
"For so long you couldn't put music and sing on a television show. People would just laugh at it," she says.
"But with people who can really sing, who can show up and do it every night, you can really see the difference. Whether people realise it or not, that's what's drawing them to the show
"Glee is educating people about the kind of hard work that goes into that, and making them appreciate theatre people more than maybe we usually are [appreciated].
"I like being in surroundings with people that are familiar with and respect the theatre. What it's doing is celebrating real singing; that's what I love about it."
Before Wicked, Menzel formed part of the original cast of Broadway hit Rent, about Bohemian artists living in New York.
'Eclectic'
She has also appeared on the big screen in Enchanted, Ask the Dust with Colin Farrell and the film version of Rent, in which she reprised her stage role as Maureen.
Her work as a recording artist will be the focus of her 6 October concert, which will see her perform with the Royal Philharmonic Concert Orchestra under the baton of Marvin Hamlisch.
"Some of the songs are from shows I've been in and some are originals from my previous albums," the singer explains.
"It's kind of eclectic, but the whole thing ends up being really cohesive once you hear the orchestra."
Menzel last performed at the Albert Hall in 2008 when she appeared in a special concert version of hit musical Chess.
"To be able to go to the Royal Albert Hall and headline and do my own show is really a dream for me," she says.
"This time in the world when everybody's having economic struggles - I don't take it lightly that people are buying tickets to come see me."
And Menzel enthuses about London audiences, describing them as "warm and enthusiastic and supportive as any other, if not more so".
Idina Menzel performs at the Royal Albert Hall in London on 6 October.