Comedy memoirs battle for Christmas best-seller list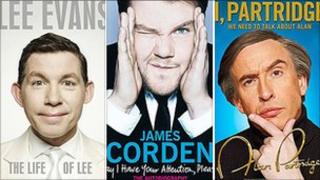 James Corden, Lee Evans and Steve Coogan are among those in the race for a top slot on the Christmas book best-seller lists.
More than 200 hardbacks are being published on what has been dubbed by the book trade as Super Thursday. That is about three times the number of books released in an average week.
"In order to get a book into the Christmas best-seller charts you need to get it out now in order to build it up through word of mouth or marketing," said Andre Breedt of Nielsen BookScan.
According to Nielsen, nearly 500 books (in all formats) are being published in the UK and Ireland on 29 September.
As in previous years, titles by comedians and entertainers feature heavily.
They include Corden's May I Have Your Attention Please?, Evans' The Life of Lee, Manford's Brung Up Proper and Steve Coogan's I, Partridge: We Need To Talk About Alan.
There will be a second, smaller, wave of book releases two weeks later on 13 October, among them Frankie Boyle's Work! Consume! Die! and Rob Brydon's Small Man In A Book.
Second wave
"There are a lot of strong comic memoirs out this year - more than any other year before," said Philip Stone, charts editor at The Bookseller.
"Publishers have caught on to the fact that, over the past five years or so, memoirs by comics have sold incredibly well indeed."
He said the staggered release strategy echoed events of last year.
"Publishers were scared that in releasing all their big hits on the same day they would just start stealing sales off each other."
Last year, nine hardbacks released on Super Thursday each took more than £1m through the tills.
One of them, Jamie Oliver's 30-Minute Meals, was the clear seasonal best-seller, cooking up more than 1.1m sales, followed by Guinness World Records 2011 and Michael McIntyre's Life and Laughing: My Story.
According to Nielsen, the 12 weeks leading up to Christmas 2010 (9 October to 25 December) accounted for nearly 69 million book sales, to a value of £567m.
On this year's contenders, Stone said: "The Inbetweeners' Yearbook could be a dark horse after the success of the film. Boyband One Direction have a book out called Dare To Dream which could do well and the Alan Partridge book - with his huge fanbase - could surprise a few people too."
Bookmakers William Hill and Ladbrokes have Oliver's new book, Jamie's Great Britain, as favourite to top the Christmas best-seller list this year.
"The odds suggest that Jamie will be very hard to beat," said Hill's spokesman Rupert Adams.