3D is a 'gimmick', according to a new UK film poll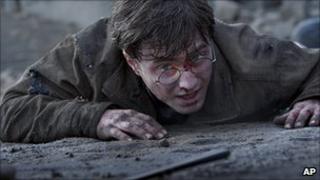 British cinema goers have said 3D makes little difference to the quality of a movie, according to a new survey.
Many of this year's blockbusters such as Harry Potter and the Deathly Hallows: Part 2 and Transformers: Dark of the Moon were made using the technology.
But, responding to a YouGov poll, 41% of people called it a gimmick with just 19% agreeing that 3D improves a film.
Just under half of those polled said it made no difference at all.
Price does not appear to be an issue for more than a third of cinema goers who said that even if the more expensive 3D films tickets were the same price as their 2D counterparts, they would rather see a film in the traditional two dimensional format.
Another 3D movie - Pirates of the Caribbean: On Stranger Tides, starring Johnny Depp, proved a big draw for audiences in 2011.
It, along with Harry Potter and Transformers, make up the top three biggest earners at the UK box office so far this year, YouGov said.
Improved technology
However, the findings suggest people "may not have flocked to films such as these because of their new 3D look", but were attracted by reviews, advertising or branding.
In August, the British Film Institute (BFI) said UK box office takings were up last year despite a decline in the number of cinema visits.
The BFI said the increase was boosted by the impact of 3D premium ticket pricing.
Although first introduced in 1915, 3D technology has steadily improved, reaching its peak in 2009 with James Cameron's Avatar.
The director filmed the movie using a unique 3D camera system which he had developed. It went on to become the highest-grossing film of all time.
The survey did suggest that 52% of audiences would be more likely to see a 3D film if they did not have to wear the glasses needed for the effect to work.