Charlie Sheen settles over Two and a Half Men dismissal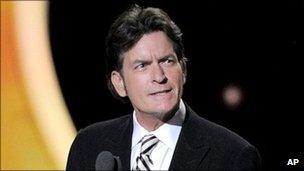 Actor Charlie Sheen has settled a legal dispute with the makers of US sitcom Two and a Half Men over his dismissal from the TV show.
Sheen's $100m (£64m) legal action was dropped following out of court arbitration "to the parties' mutual satisfaction", Warner Bros said.
The terms of the settlement will remain confidential, the statement added.
Sheen was fired from the show in March and claimed producer Chuck Lorre had been "harassing and disparaging" him.
The actor's lawyer has yet to comment on the settlement.
Court papers at the time stated that Sheen was seeking compensation for loss of earnings for both himself and Two and a Half Men's "entire crew".
Before his dismissal over substance abuse and public criticism of the show's makers, Sheen was earning more than $1 million (£642,000) per episode.
His entry to a rehabilitation facility caused the show's production to be suspended.
Sheen was replaced by Ashton Kutcher on the popular comedy show, while his character Charlie Harper has been killed off.
His exit - which was not seen on-screen - attracted an audience of 28.7 million viewers, the show's highest ratings since it started in 2003.
Following months of acrimony, Sheen has recently made TV appearances apologising for his behaviour.
At the recent Emmys, where he presented the award for best lead actor in a comedy series, the star wished the cast and production team of Two and a Half Men good luck for their new series.
"I wish you nothing but the best for this upcoming season," said the actor.