DW Wilson is youngest winner of BBC Short Story prize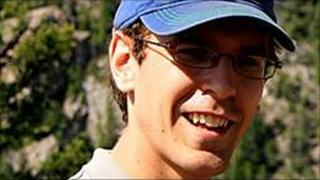 Canadian writer DW Wilson has been named winner of the BBC National Short Story Award, the youngest recipient in the prize's history.
The 26-year-old was presented with £15,000 for his story The Dead Roads at a ceremony in London, which was broadcast live on Radio 4's Front Row.
Wilson's tense tale of a highly-charged road trip was described as "note perfect" by the judges.
Author Jon McGregor was runner-up for the second year in a row.
MJ Hyland, Alison MacLeod and KJ Orr were also in the running for the honour, which is in its sixth year and open to writers who are resident in the UK.
'Rattling good read'
Wilson was born in British Columbia before attending the University of East Anglia to study creative writing.
All five finalists' stories were broadcast on Radio 4, read by actors including Tim Pigott-Smith and Indira Varma.
Chairwoman of the judges Sue MacGregor described Wilson's tale of two friends trying to win the affections of a girl as a "beautifully crafted and involving tale", while the panel agreed it was "perfectly constructed".
The former Today presenter said its tightly controlled plot and well-gauged tension made it "a rattling good read".
Viv Bird, chief executive of Booktrust, which has spearheaded the award since 2005, said it had "unearthed an extraordinary rising talent" in Wilson.
She added that the competition continued to allow people to "discover the power and delight" of the short story genre for themselves.
Wilson's first collection of short stories is due to be published later this year, while a debut novel is due to follow.
You can hear interviews with the contestants and download all the shortlisted stories on the BBC Radio 4 Front Row website