Third White Cube gallery set to open in London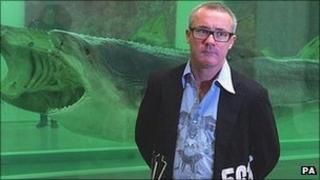 A third major White Cube art exhibition space, the largest to date, is opening to the public next month.
The Bermondsey building, which will open for business on 12 October, has room for several galleries, an auditorium and a bookshop.
White Cube, set up in 1993, is best known for exhibiting the work of contemporary artists including Damien Hirst and Tracey Emin.
The new 58,000 square feet gallery's first show will include work by Hirst.
It will also introduce a new programme to showcase artists which have yet to be exhibited at White Cube.
The organisation's founder, Jay Jopling, said the new space - previously a warehouse built in the 1970s, would give them the chance to "expand the range and ambition of all aspects of our programme".
He added that it affirms the "ongoing strength of London as a creative hub".
The gallery's public opening will coincide with London's Frieze Art Fair, a contemporary art event taking place in Regent's Park.
White Cube's existing premises are in Hoxton, east London and St James's in central London, close to its original exhibition space.
It is due to open its first overseas branch in Hong Kong next year.