Brad Pitt explains the sale of his twin baby photos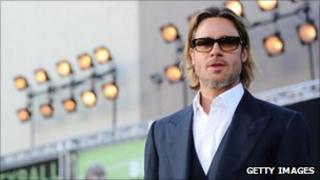 Brad Pitt has explained why he and partner Angelina Jolie sold pictures of their newborn twins to the press.
The couple welcomed Vivienne and Knox into their family in 2008.
The 47-year-old said it felt "strange" to be "selling photos of something that's very intimate and personal", but wanted to maintain control of their first public introduction.
The pictures were sold to Hello! and People for a reported £8.75m ($14m).
Jolie and Pitt - whose latest movie Moneyball finished second at the US box office this weekend - reportedly donated the money to their charity organisation the Jolie-Pitt Foundation.
Talking to National Public Radio, Pitt said the couple wanted to protect the newborns from intrusive photographers.
"I know some of these guys who are in that 'stalkerazzi' world, and you really have to separate them from the paparazzi in our industry. That's another breed," he said.
"We figured, 'Let's cut it off in the beginning,' and instead of that money going to people I do not respect, we would make some good out of it."
The A-list couple have six children, three of whom were adopted.
Pitt admitted family life can be difficult under the constant glare of the media, claiming: "We have to plan an escape every day just to get out of the house."
But he added it was "the life we live in, and that's the one we asked for."
Pitt is currently in the UK filming the apocalyptic zombie thriller World War Z.