Signing and hip-hop Shakespeare at 2012 Globe festival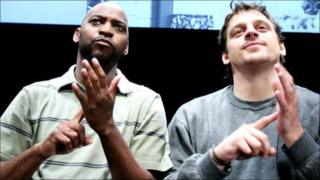 Sign language, hip-hop and Maori are just some of the diverse ways in which all of Shakespeare's plays will be performed at London's Globe Theatre as part of 2012's Cultural Olympiad.
The theatre's artistic director Dominic Dromgoole described Globe to Globe as both "bizarre and exciting".
He said it will be the first time a full Shakespeare play is performed in British Sign Language for an audience of both deaf and hearing people.
Each play is in a different language.
Globe to Globe, which is produced by the theatre, is part of the World Shakespeare Festival (WSF), which will include thousands of global performers in 70 shows as well as a British Museum exhibition.
The WSF is part of London 2012 Festival, which is organised by the Cultural Olympiad - a cultural celebration for next year's Olympics.
Dromgoole spoke at the launch of Globe to Globe of the "overwhelming enthusiasm from the international community to come here".
He said the Globe, on the banks of London's River Thames, was a "temple of theatre and Shakespeare" and that he had been surprised by its ability to "bring in heavyweight international theatre companies".
Deafinitely Theatre from London, has translated and will perform the text of Love's Labour's Lost in British Sign Language (BSL). Dromgoole described the performance as a "thrilling theatrical adventure for anyone".
Othello is to be staged in hip-hop by the "delightfully cheeky" Q Brothers from Chicago in the US, Dromgoole said, adding they offer a "fresh, urban take on Shakespeare's tragedy" which will be "spun out, smashed up and lyrically rewritten over original beats".
Cymbeline will be performed by a specially formed theatre company from the newly independent South Sudan, which became a country in its own right in July this year following decades of conflict.
Dromgoole said the company had sent him a 20-page document requesting participation in Globe to Globe, adding: "The size of their desire to come here was simply overwhelming.
"Out of the horrific troubles suffered by this country's people, the first signs of hope for the future are springing. This production marks an historic step for the country's future."
Theatre companies from the Balkans - Serbia, Albania and Macedonia - will each perform one of the three Henry VI plays, which focus on the turbulent civil Wars of the Roses in 15th century England. Describing the "Balkan trilogy" as a performance of "electrifying plays", he said it will be the first time they have all been performed at the Globe.
One of the stars of the 2002 film Whale Rider, Rawiri Paratene, has produced New Zealand's version of Troilus and Cressida featuring the haka, waiata and many other aspects of Maori culture. The film received an Oscar nomination for best actress.
Despite the variety of languages being used for the performances, surtitles translating the text into English will not be used. Surtitles are translated or transcribed dialogue or lyrics projected above a stage or displayed on a screen for the audience.
The Globe's artistic director has described them as an "incessant distraction" and said they would be used during the Globe performances only to describe the action of the scene.
He also spoke of the "joy of hearing stories in unfamiliar languages" but said that the Globe was still going to send "ambassadors" to ex-pat communities in the UK to encourage people to go and hear Shakespeare in their own tongue.
The "ambassadors" will visit the South Korean community in Kingston-upon-Thames, Bangla speakers in Tower Hamlets and Brazilians in Stockwell, Brent and Bayswater. He said he hoped Globe to Globe "might be something that would greatly appeal".
He added that the event will cost about £1.8m in total and that 45% of the costs would be covered by box office. The Globe has also received funding from the London Organising Committee of the Olympic and Paralympic Games (Locog).
The languages represented in the Globe to Globe season are: Afrikaans, Albanian, Argentine Spanish, Armenian, Bangla, Belarusian, Brazilian Portuguese, British Sign Language, Cantonese, Castilian Spanish, Dari Persian, English, French, Georgian, German, Greek, Gujarati, Hebrew, Hindi, Hip-Hop, IsiZulu, IsiXhosa, Italian, Japanese, Juba Arabic, Korean, Lithuanian, Macedonian, Mandarin, Maori, Mexican Spanish, Palestinian Arabic, Polish, Russian, Serbian, Sesotho, Setswana, Shona, Swahili, Turkish, Urdu and Yoruba.
The countries and territories they represent are Afghanistan, Albania, Argentina, Bangladesh, Belarus, Brazil, China, France, Georgia, Germany, Greece, Hong Kong, India, Israel, Italy, Japan, Kenya, Lithuania, Macedonia, Mexico, New Zealand, Nigeria, Pakistan, Palestine, Poland, Russia, Serbia, South Africa, South Korea, South Sudan, Spain, Turkey, UK, USA and Zimbabwe.
Globe to Globe will run for six weeks, starting on Shakespeare's birthday next year on 23 April. Ticket prices start at £5, and a £100 Yard Olympian ticket will grant you admission to all the plays. There are other multi-buy tickets available - each with an Olympic-themed name.