Spanish film takes top prize at San Sebastian festival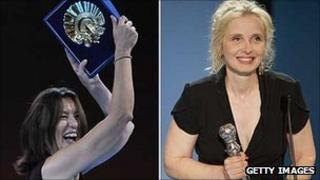 A Spanish film, shot in Mali and based on the work of a late French painter, has won top prize at the San Sebastian Film Festival in northern Spain.
Los pasos dobles (The Double Steps) drew mixed reviews but still received the 'Golden Shell' award from a jury headed by US actress Frances McDormand.
French star Julie Delpy won a special jury prize for Le Skylab, a nostalgic comedy based on her childhood.
Audience prizes went to British film Wild Bill and French title The Artist.
The former, a crime drama set in east London, marks the directorial debut of Dexter Fletcher, of Lock, Stock and Two Smoking Barrels fame.
Speaking ahead of Saturday's ceremony, the British actor said he hoped to "bring some success home" from the annual event.
Clive Owen, Catherine Deneuve and Antonio Banderas were among other celebrity attendees at the nine-day festival.
US actress Glenn Close also attended to receive the honorary Donostia award and present her latest film, Albert Nobbs.
Shot in Ireland, it sees the 64-year-old play a woman who disguises herself as a manservant in order to work in a hotel.
Previous recipients of the Donostia award - named after the Basque name for the coastal city - include Julia Roberts, Al Pacino and Sir Ian McKellen.
Directed by Catalan film-maker Isaki Lacuesta, Los pasos dobles is partly a portrait of Miquel Barcelo, one of Spain's leading living artists.
It also pays homage to Francois Augieras, a French painter who spent much of his life working in the West African republic of Mali.
The film was one of 17 titles up for the Golden Shell, presented last year to Peter Mullan's Glasgow-set drama Neds.
Others included Terence Davies' The Deep Blue Sea, which will receive its British premiere next month at the London Film Festival.
Actress turned director Delpy said it was "amazing" to be recognised for Le Skylab - a film set in 1979 named after the Nasa space station that crashed to Earth that year.
"The film is about happy moments, so thank you for another happy moment," said the 41-year-old as she collected her award.