Beatles photographer Robert Whitaker dies aged 71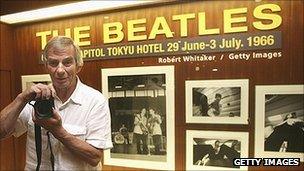 Photographer Robert Whitaker, best known for this work with The Beatles during the 1960s, has died aged 71.
Whitaker took many pictures of the Fab Four, including a cover for the album Yesterday and Today featuring meat and dismembered dolls.
But the controversial image was pasted over with a much less graphic shot of the band for the album's US release.
Whitaker captured other acts including Cream and Mick Jagger and covered the war in Cambodia and Vietnam.
The British photographer also worked during the conflict between Pakistan and Bangladesh in the 1970s.
Whitaker first photographed the Beatles on their visit to Australia in 1964 where he had been working for the Melbourne Jewish News.
Their manager Brian Epstein gave him the job of staff photographer for his company, leading him to work with other artists including Cilla Black.
He chronicled The Beatles' concerts at New York's Shea Stadium and on their final world tour in 1966.
The photographer was also on hand to capture them in more informal poses during this period.
Whitaker said that it had been "hard work" to set up the Yesterday and Today "butcher" pose, in which the band members wore white coats.
"I had to go to the local butcher and get pork. I had to go to a doll factory and find the dolls. I had to go to an eye factory and find the eyes. False teeth.
"There's a lot in that photograph," he said.
The image was published on a number of occasions in the music press before being withdrawn on grounds of taste.
Towards the twilight of his career, Whitaker was engaged in creating a digital archive of his body of work.