X Factor beaten by Modern Family in US TV ratings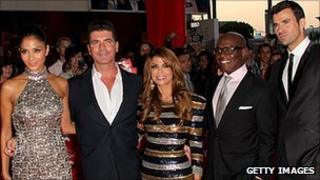 The first episode of X Factor USA has been beaten in the TV ratings by comedy Modern Family, according to new viewing figures.
Simon Cowell's show was seen by 12.1 million people on Fox, while the ABC programme captured 14.3 million, making it the night's most watched show.
Modern Family was honoured with five prizes at Sunday night's Emmy Awards.
During the opening show, Judge Cheryl Cole was replaced by singer Nicole Scherzinger with no explanation given.
Cole was dropped during filming of the show in June, amid speculation that her accent was too strong for US audiences.
However, television critics responded warmly to the British singer's brief appearance on Wednesday night, with one critic calling her accent "fabulous" while another called Scherzinger a "seat-warmer".
Indecency complaint
Cowell has previously stated that he wanted the US version of The X Factor to perform better than American Idol in the ratings, but the first show attracted only about half the audience numbers of the rival talent show.
Last year's American Idol season finale was watched by 24 million viewers. It was the first series not to feature Cowell as a judge, after he stepped down ahead of the US launch of X Factor.
Meanwhile, an indecency complaint has been filed to US TV authorities after a contestant on the first edition of X Factor USA exposed himself while performing.
The Parents Television Council said the pre-recorded footage - although heavily obscured - was shown before the watershed.
Judge LA Reid called Geo Godley's audition "offensive and disgusting", while co-judge Paula Abdul was shown leaving the set, apparently made physically ill by the incident.