Celebrity MasterChef struggles in new daytime TV slot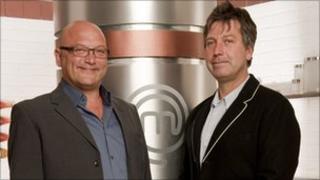 Reality show Celebrity MasterChef is struggling to find an audience after moving to daytime TV.
The series, presented by Gregg Wallace and John Torode, has averaged an audience of 1.04 million on BBC One.
A Saturday evening highlights show was watched by just 2.71 million viewers. Strictly Come Dancing had attracted 7.6 million in the same slot.
The BBC said the programme had been scheduled to make it "available to the widest possible audience".
A spokeswoman for BBC One said the new slot, complemented by catch-up compilations on Friday and Saturday, allowed "a greater examination of the celebrities' cooking skills".
"There will be more hours of Celebrity MasterChef than ever before," she said.
"The Friday and Saturday evening programmes will ensure that viewers won't miss out on the main event though as they pick up with the three celebrities facing their last terrifying challenges and battling for their place in the semi-final."
The daytime episodes are the most-watched terrestrial TV programmes in their timeslot, and have improved on the ratings for property show Escape To The Country, which was scheduled at the same time in August.
The weekend highlights programme is on shakier ground, however. BBC One would normally expect to attract around 6 million viewers on early Saturday evening.
Last year's series of Celebrity MasterChef, shown at 20.00 BST had an average audience of 4.86 million, peaking at 6.73 million for the semi-final.
Dozens of viewers have written to the BBC to complain about the show's departure from primetime.
"I hate the new time - I think the BBC are trying to do away with this programme," wrote one fan on the corporation's Points of View messageboard.
Another complained that the compilation shows were "so chopped about, its almost impossible to follow".
Audiences were also upset that the celebrity cook-off, now in its sixth series, had been launched without much fanfare.
"I've just discovered that Masterchef is running and for a while was left wondering what on earth is going on," said one.
The 30-part series features celebrities including former page 3 model Linda Lusardi, Newsnight presenter Kirsty Wark and Olympic sprinter Darren Campbell.