Acts of Godfrey film is a first for verse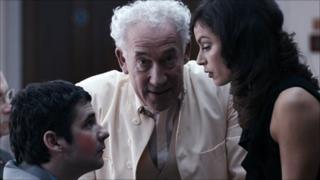 How easy is it to make a movie written entirely in rhyming couplets? Against all the odds, Johnny Daukes did just that - and his debut feature Acts of Godfrey premieres this week.
As a first-time film-maker, Johnny Daukes threw away the rule book.
"I did everything that screen-writing manuals tell you not to do," admits the London-based writer and musician.
"You're supposed to sit down and work out your plan. I started writing it as a poem in a coffee bar in Glasgow," he explains.
"In an hour I had two sides of A4. Within a few days I'd introduced all the characters."
Having had his script rejected by the UK Film Council, Daukes managed to find alternative financial backing.
The final result is Acts of Godfrey - a black comedy written in rhyming couplets, which premieres at the Raindance Film Festival in London on Friday.
The script's poetic approach is given added weight with the casting of actor Simon Callow - no stranger to the finest rhymes in English literature - as the story's omniscient narrator.
"Now you're probably wondering 'Who am I?' And is this a message beamed down from on high? I am above you, I'm below you - I'm what makes you think. I'm a thousand-yard stare and the tiniest blink," booms Callow in the film's opening scene.
Elsewhere, Daukes gives Shakespeare a twist: "And tomorrow and tomorrow this petty creep/May be put in his place, perchance to weep."
Acts of Godfrey is set in a country hotel where a group of morally dubious characters have gathered for a motivational sales course called Win Only Win.
The cast includes Harry Enfield, as a conman who preys on wealthy widows, plus Iain Robertson, Celia Imrie, Myfanwy Waring and Doon Mackichan.
Daukes, who also took on directing duties, states confidently that Acts of Godfrey is the first original screenplay in the UK to be written in rhyming couplets.
"I've always enjoyed writing in rhyme as a songwriter. I thought it must be possible to write something in rhyme that is completely contemporary that isn't twee and makes you cringe."
Simon Callow agrees: "It's a famously tricky form, but I was impressed by Johnny's absolute confidence.
"It's not a form that works wonderfully well in English, it can seem trite, like a Christmas cracker motto, but he avoided that rather brilliantly."
What does he admire about the rhyming couplet?
"It makes things more memorable and it give the sentence an energy because the ear is waiting for the rhyme.
"I think it has a great naturalness about it, you'd think it would be the most artificial thing but it isn't."
The actor adds: "I've done a lot of classical work and a lot of the actors in the film hadn't, but they took to it with such ease."
'Indie opera'
Daukes is the first to admit that the journey from script to screen wasn't an easy one. He put Godfrey on ice in 2006 to work on satirical BBC Three show The Message.
When that turned out to be "a bit of a disaster", he went back to the screenplay and sought funding from the now-defunct UK Film Council.
Its rejection letter praised the film's "real uniqueness" but said viewers might lack empathy with the storylines.
"Their remit for new cinema was distinctive English voices, and I thought: 'How distinct and English have you got to be?'" Daukes reflects.
"It was quite dispiriting at times. When I showed the script to various people in TV and film, and they would see all these words on the page and say: 'Come on Dauksey, it's very clever, but show don't tell!"
He eventually funded the film through a single investor, Tony Schlesinger, who has the film's producer credit.
Meanwhile, Daukes is working on two new film projects - one of them an "indie opera" - and is about to release a solo album, A False Parade, which features two songs from Acts of Godfrey.
But he says one of the best things to come out of making Godfrey was getting to know Simon Callow.
"He's such a wicked bloke to hang out with. We were up in Edinburgh a couple of weeks ago and after his one-man show he talked to me for two hours about Dickens.
"It was the most amazing history lesson I've ever had. And - hey presto! - I've just ordered a copy of Great Expectations."
Acts of Godfrey screens as part of Raindance Film Festival on Friday 30 September at the Apollo Cinema, Piccadilly Circus. Johnny Daukes' album A False Parade is released on 7 November.