Oscars campaigning to be curbed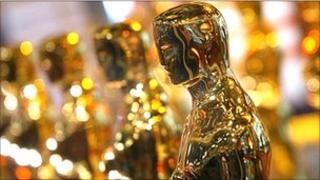 Oscars organisers have announced a crackdown on social events aimed at wooing voters ahead of the Academy Awards ceremony.
New rules will ban members from attending parties organised by film companies after the nominations are announced on 24 January.
But voters will still be allowed go to screenings attended by actors.
Academy president Tom Sherak said the rules helped in "protecting the integrity of the awards process".
He added that it would help to preserve "the distinction of the Oscars".
Voters will still be permitted to watch copies of eligible films in their own homes, but Mr Sherak said the Academy would still prefer them to attend public screenings.
"Above all, we want Academy members to see movies as they were meant to be seen, in a theatrical setting," he said.
'Social minefield'
Numerous lavish receptions and parties are integral to the run-up to the Oscars ceremony, which is taking place on 26 February, with film companies devoting substantial budgets to courting voters.
The final deadline for ballot papers to be returned is five days before the big event.
Gregg Kilday, analysing the new rules in trade publication The Hollywood Reporter, said the restrictions could cause "a social minefield" after Oscar nominations have been announced.
An events publicist quoted in the article said that it effectively meant that you might not be permitted to hold a private party for someone with an Oscars connection.
While Kilday said the new regulations are "the most comprehensive set of changes in years", his conclusion was that "though its new rules sound tough, there are still enough loopholes to keep everybody happy".
The Hollywood Reporter added that some social events, including the annual Oscar nominees' luncheon, would still be permitted to go ahead.
The Academy also announced that a long-standing ban on negative campaigning against films and actors had been extended to social networking sites such as Facebook and Twitter.
Members can be expelled from the organisation if they violate this rule more than once.
In 2010, producer Nicholas Chartier was barred from the awards ceremony after the Academy accused him of "casting a negative or derogatory light on a competing film".
Chartier, who financed The Hurt Locker, sent emails urging voters to choose his movie and "not a $500m film", assumed to be a reference to James Cameron's Avatar.
The Iraq war drama eventually picked up the best film prize, and Chartier was given his statuette at a later date.